Are you aware of the causes of commercial water damage?
You may not realize this, but commercial water damage is far more complex than residential water damage. To get rid of commercial water damage, you need a far more intensive approach. Some of the most important factors to consider when dealing with commercial water damage include the size of the building, the number of occupants and the extent of damage. Other than that, there is also a time constraint that cannot be ignored. Some commercial water damage problems are hard to deal with, while some of them can be solved If the cause of the problem is detected in the earlier stages.
In the following paragraphs, we will take a look at some of the causes of commercial water damage so that you can detect it easily.
Damaged Windows
In some offices, the windows are either broken or improperly sealed. Damaged windows allow water and moisture to enter, which results in water damage and mold growth. Both water damage and mold growth are detrimental to surfaces and materials such as drywall, wooden doors, cabinets, carpeted ad wooden floors. If the windows are broken or improperly sealed, make sure they are repaired promptly. Also, make it a habit to have your windows caulked regularly.
Faulty Pipes
Another common reason behind commercial water damage is broken or damaged plumbing. There are several reasons why a pipe gets damaged. Sometimes, it is due to a change in pressure, while sometimes, the temperature fluctuations on the outside cause them to burst and leak. Loose tiles, water marks, and pungent and musty odor are all signs of damaged plumbing.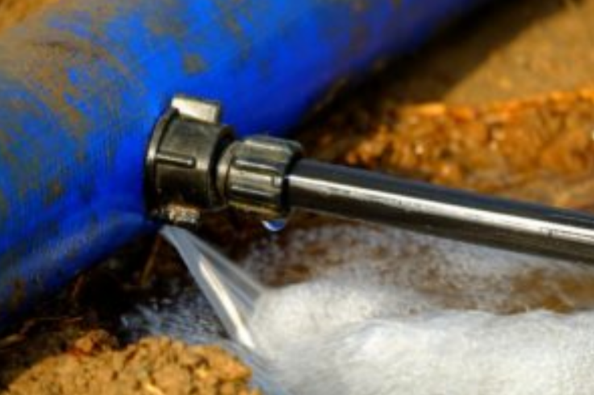 Leaky Roofs
Another cause of commercial water damage is a leaky roof. Oftentimes, we tend to skimp on roof and gutter cleaning, which allows water to accumulate, thus weakening the roof materials. A time comes when the roof starts to leak, thus allowing water to enter and pool on your office floors. The pooling water causes flooding, which results in mold damage and also attracts insects and pests, which are detrimental to human health and also blemish the look of your interior space. Hence, make sure roofs and gutters are checked every few months, especially in the fall when leaves are falling.
HVAC Issues
The HVAC system uses a number of different ducts to provide heating and cooling throughout your office. With time, these ducts tend to weaken and get damaged, which results in leakage. To prevent water damage, you need to invest in regular HVAC cleaning. Also, the excess water from the reservoirs needs to be removed in order to prevent water damage as well as mold and mildew growth.
You will want to call water damage removal professionals to help determine the source of the water leak and to ensure the water and potential contaminants are extracted and cleaned up correctly. Water damage specialists, like Service Team of Professionals (STOP), have the most up to date training and equipment to safely and quickly stop the damage from occurring and restoring the area to a dry, safe environment.
STOP Metrowest is an IICRC Certified Firm - safe, quality, and compassionate service is our priority! We provide 24/7 emergency water extraction and restoration of any water damage related issues in Framingham MA or other Metrowest MA communities like Sudbury MA, Holliston MA, and Westborough MA. Call STOP MetroWest at (508) 841-3082.
For more information, visit our webpage at STOP Metrowest.
Posted By
STOP Boston Metrowest
Categories:
More Posts Like This
Holiday clean up can be especially stressful for household drains and local wastewater systems because of the strain of what is being put down the drain while ...

Read More

Chronic obstructive pulmonary disease (COPD), although often preventable, is the third leading cause of death by disease in the U.S. according to the American ...

Read More

What can you do to help prevent the spread of infectious pathogens? Whether it's a virus like coronavirus and influenza, bacterial like food poisoning, ...

Read More
Part of the Authority Brands Family