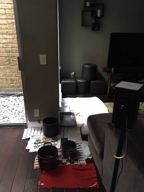 Our first job, as a brand-new franchise for Service Team of Professionals, was a text book situation of a home with water running down the walls from a leak in the roof. There was obvious water damage on the ceiling of the guest bedroom upstairs and then a large, matching mark directly underneath in the living area. To additionally complicate the matter, the house had an open plan first floor and the section of the affected internal living area wall rose straight up the upper floor ceiling as an atrium.
While the homeowner (with our assistance) worked on getting her HOA to attend to the roof to prevent any recurrence of the rain leaks that caused the problem in the first place, we performed the task of remediation on this pretty townhouse. As the downstairs flooring was contiguous throughout the whole first floor, the insurance company accepted that it all needed to be replaced, so the initial demo required the removal of parts of all affected walls and ceiling materials, together with the large area of flooring on the first-floor, and the second-floor guest bedroom.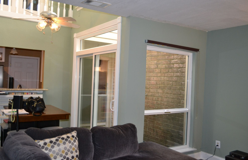 Once we were certain that no more leaks would occur, we used our heavy-duty plastic and tenting poles to contain the area on both floors, enabling us to facilitate the drying of the area in a speedy manner. When we were sure the whole area conformed to our established dry standard, we removed the tenting and cleaned the remediated area and applied antimicrobial spray to prevent any development of mold.
At this point, we had discovered some movement in the structure of the house following foundation work that had been done prior to this current owner's tenure. This discovery, which included movement of the framing of the windows on the affected wall and the adjoining sliding doors, resulted in the owner deciding to take the opportunity to replace the two windows and the sliding doors with modern double glazed units, while the structural repairs were being carried out.
The bedroom and living area replacement windows and the living area sliding doors were fitted after the structural repairs were completed so that, together with new flooring and painting on both levels, this home was back to looking as good as new. A thorough clean and replacement of the furniture, blinds and drapes meant this happy homeowner could at last relax, and claim her home back.
Posted By
Service Team of Professionals
Categories:
More Posts Like This
We were called out by an unhappy homeowner to investigate a water leak in the master bedroom of his three-year-old house. He had discovered there was a problem ...

Read More

Unfortunately, there are some so-called professionals that have very little certified industry training on the subject of water damage, fire, smoke, mold and ...

Read More

Our first female member of the team attended an IICRC certification class for Water Restoration Technician last week. We await the results of her formal ...

Read More