Follow These Steps to Dry Your Flooded Basement Carpet
Do you have a pipe leak that turned into a massive problem and flooded your basement carpet? You need to react quickly to restore the damages.
Cleaning and drying your wet carpet can be a tough job after your basement has flooded. You need to act quickly; otherwise, the chances of mold growth increase, which can ruin your carpet. If you fail to dry your carpet within 48 hours, your carpet may even become unsalvageable due to the spread of mold.
Follow these steps to dry or restore your flooded basement carpet:
Get Rid of Floodwater
It goes without saying that you must remove the floodwater from the basement before moving on to the cleaning and drying process. In case there's still a lot of water in your basement, use a vacuum that's used to pull water from the floor.
In case of minor flooding, rags or sponges should be sufficient to soak up the water from wet areas of the carpet. You may also use thick blankets or towels to get the moisture out of it. Press the item firmly onto the wet carpet area so that water can easily soak up from it.
Dry the Carpet
An effective approach would be to move your carpet to an outdoor area so that it gets adequate air. If that won't be possible, dehumidifiers and fans should be very useful for the purpose. While you can use regular household fans for the drying process, since they aren't designed for the purpose, it might take time to dry the carpet with them. Also, repeated use of regular fans can cause them to overheat.
Dehumidifiers or fans that are specifically designed for carpet drying should be more valuable. Depending on your location, they might be available for rent. Regardless of the method you use, do your best to speed up the drying process. You can lift up the carpet to ensure maximum exposure to airflow.
Clean the Carpet
Once your carpet is free from floodwater and is completely dry, lay it flat on the floor for cleaning. You may either call a professional cleaner or clean it on your own using a carpet cleaning machine. If you intend to use a carpet cleaner, follow the instructions given on it regarding how much bleach, shampoo, or disinfectant to use.
Use rubbing alcohol to disinfect the surfaces on your basement carpet and carpet padding. Then, steam clean them or use a shampoo to remove the dirt that may have settled upon the surfaces. Before placing your carpet back on the basement floor, it's important to clean and disinfect the basement floor as well.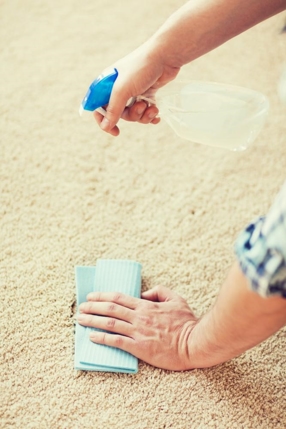 Mop the floor with water and soap and then disinfect it by applying bleach. One cup of bleach per gallon of water should be enough. Also, be sure to dry both the floor and the carpet before laying down the padding and carpet on the basement floor.
If your flooding situation is severe, consider using professional restoration services to clean and dry your basement carpet. S.T.O.P is a reputable home restoration company serving in North Las Vegas, Henderson, Boulder City, Summerlin, Whitney Ranch, and many other areas.
To restore your carpet and basement from water damage, make a quick call to S.T.O.P by dialing 702-803-3094.
Posted By
Las Vegas
Categories:
More Posts Like This
Water damage should never be taken lightly. When water accumulates in your home, it can not only harm your personal belongings but also affect your health. Here ...

Read More

Are you sure you and your staff are fully aware of the effects of commercial fire damage? While fire safety awareness and facilities are more accessible than ...

Read More

Protecting your family from potential fire hazards is the top-most priority at home. Yet, very few homeowners are aware of the fire-fueling dangers present at ...

Read More