Effects of Commercial Fire Damage | Commercial Restoration News
Are you sure you and your staff are fully aware of the effects of commercial fire damage?
While fire safety awareness and facilities are more accessible than ever, the number of fire hazards reported remains alarmingly high. The National Fire Protection Association (NFPA) reveals that every 24 seconds, a fire-related incident requiring fire department services occurs in the US alone. Commercial facilities and offices happen to be among the highly affected entities that have suffered millions of dollars in losses resulting from fire hazards.
Here are the most common effects of commercial fire damage:
Damage to Property
Following a serious fire incident, the damage and destruction caused to the property are inevitable. No one can deny the demolition caused to areas affected by fire, but other portions where the blaze never reached aren't safe either. The smoke that spreads and settles around all sections of the premises is enough to harm the structure. Without on-time fire restoration services, the damages can prove irreversible within weeks.
Businesses that operate under one roof are the most affected ones as a fire incident brings production and operations to a complete halt. Those businesses that have multiple production facilities can keep operating in other factories and may even shift operations from the damaged facility.
Revenue Loss
As production stops during a fire-related incident, your company will face revenue losses. It may take weeks or even months to recover the total losses. Revenue loss may even become irrecoverable if a business remains non-functional for longer periods.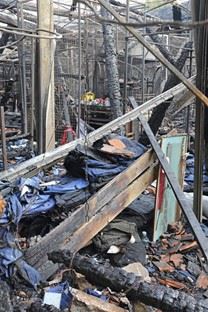 Loss of Data
Among the most serious consequences of fire damage is the destruction of valuable documents and data. If there's no off-site backup for important files and data, the business may get in serious trouble. Past company records, clients' data, financial data, etc., are critical to keeping the business up and running. Locally storing data on systems is not sufficient either. There has to be a reliable cloud-based solution with backup plans in place for maximum security.
Troubles for Employees
One of the most significant effects of fire hazards is the trouble caused to employees, which is often neglected as it tends to impact them over time. As for the immediate problems, staff may be injured during the incident, costing them money or hefty medical bills. Wages may be lost for the days the business remains nonoperational following the incident. As the business carries on and realizes the losses, workers may be made redundant to cover the losses.
Even if no one is injured from the fire and there is no need to close down operations, the mere psychological impact on employees can result in a drastic fall in productivity and the business might lose its competitive edge
How Businesses Can Play Down the Effects of Fire Damage
While safety precautions are a must at industrial offices and facilities, nothing is 100% secure. The most rational way to react to a fire-related incident is to seek fire restoration services as soon as possible.
If your Las Vegas home has been damaged by fire, contact the Service Team of Professionals (STOP) today.
Posted By
STOP Las Vegas
Categories:
More Posts Like This
Water damage should never be taken lightly. When water accumulates in your home, it can not only harm your personal belongings but also affect your health. Here ...

Read More

Protecting your family from potential fire hazards is the top-most priority at home. Yet, very few homeowners are aware of the fire-fueling dangers present at ...

Read More

Do you want to prevent sewage backup? Here is what you can do. Your sewage system is primarily designed to ensure an outward flow of water from your home. It ...

Read More