Mesa, AZ - Different Types of Mold You Should Know About | Home Restoration News
About Us
»
Blog
»
2020
»
June
»
Mesa, AZ - Different Types of Mold You Should Know About | Home Restoration News
Are you aware of the different types of mold? Let's find them out.
If you have experienced mold damage in your home, you can understand what a nuisance it is. There are several ways mold can wreak havoc. It destroys the structural integrity of your home, damages your valuable possessions, and affects your health.
There are different types of mold. In this article, we shall educate you about the different kinds of mold that you need to remove from your home as soon as possible.
Acremonium
The first type of mold on our list is acremonium. It is categorized as pathogenic or toxigenic mold. It is a result of flooding, and is often found in damp and dark locations. If you are exposed to this type of mold, you may experience nail or eye infection.
Aspergillus
Next on our list is Aspergillus. Unlike Acremonium, Aspergillus is categorized as Allergenic mold. It is commonly found on damp walls and moist surfaces in your home. Furthermore, it can cause lung diseases and allergic reactions.
Alternaria
Another common type of mold found in homes is Alternaria. Just like Aspergillus, Alternaria is also categorized as Allergenic mold. However, it is commonly found on carpets, window frames, wallpapers, and air conditioning systems. Being allergenic, Alternaria can cause allergic reactions, asthma, and pulmonary diseases. This mold has a velvety texture and can lead to watery, itchy eyes.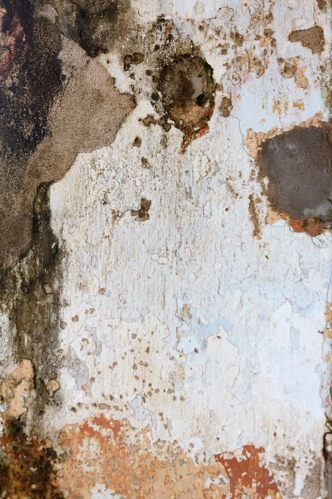 Aureobasidium
Another mold that is categorized as allergenic mold is Aureobasidium. It is normally found in the caulk and grout in your bathrooms and kitchens. Some of the most common symptoms of exposure to this type of mold are high fever, asthma, hypersensitivity and pneumonia.  This mold is usually black, brown or pink in color. The longer this mold stays, the darker it becomes.
Cladosporium
Cladosporium is another common type of mold which shares the properties of both allergenic and pathogenic mold. It is common in areas that experience little sunlight, and have poor ventilation. They cause eye and nail infections, as well as allergic reactions.
Mucor
Mucor is a common type of mold which is solely allergenic. This type of mold is commonly found in mattresses and carpets. Being allergenic, exposure to this type of mold can result in severe allergic reactions.
Fusarium
Another common type of allergenic mold is Fusarium. It is found in garden soil, grassy fields and crop fields. Anyone who is exposed to this mold suffers from an allergic reaction.
Stachybotrys
Last but not least, Stachybotrys is a common toxigenic mold. It is commonly found in damp and wet areas like bathrooms, showers, laundry rooms, and basements. They can result in fever, respiratory issues, fatigue, headaches and dermatitis.
If you notice mold growth in your home, don't waste a minute and seek professional mold restoration services in Mesa, AZ from Service Team Of Professionals Mesa (#STOPMESA).
For the best mold restoration services in Mesa, Gilbert, San Tan Valley, AZ, feel free to visit our website today.
Posted By
STOP Mesa
Categories:
More Posts Like This
Are you aware of the health effects of poor indoor air quality? Let's find out. After a tiring day at work, nothing seems more pleasurable than returning home ...

Read More

Are you aware of the different types of water damage? Let's find out. Numerous homeowners experience water damage daily. When faced with water damage, the best ...

Read More

Do you suspect mold growth in your sink drain? Here is how you can check for mold growth in your sink drain. You may not realize this, but mold spores are ...

Read More
Part of the Authority Brands Family