Toxic mold, also known as black mold, is a type of mold that produces hazardous byproducts, called mycotoxins. While individuals with asthma and other respiratory problems may have reactions to many types of mold, it's thought that mycotoxins are more likely to trigger health problems in even healthy individuals. These toxins are believed to be linked to memory loss and to severe lung problems in infants and the elderly.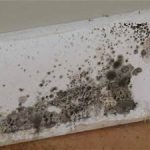 Floating particles of mold are invisible to the naked eye, so it's impossible to see where they might have landed until they begin to grow. Loose mold particles that accumulate on items within a house are easily inhaled and can be a constant irritation to the people and pets that live there.
The common Florida toxic mold we hear most about is Stachybotrys chartarum, a slimy, greenish-black mold that grows on moisture-laden materials that contain cellulose, such as wood, paper, drywall, and other similar products.
It does not grow on tile or cement.

Even if the mold in your home is not toxic mold, it can still be a problem, because any mold growing on organic materials will in time destroy them–and too much mold of any type smells bad and degrades air quality.
Service Team of Professionals located in Port St Lucie FL. is licensed and specializes in the removal of mold or Mold Remediation from your home and ambient air. Call Kert Steward today(772) 266-5428 and get a free home evaluation to ensure you and your family is safe.
Posted By
STOP
Categories:
More Posts Like This
How do I know if I have a mold issue? A mold issue is always related to moisture from a water source or high humidity. The mold from a water source is usually ...

Read More

If a water line leaks or breaks and the homeowner is away for a long period of time you run into serious mold issues because it can affect multiple rooms in the ...

Read More

Are you a homeowner in Port St. Lucie? Do you know the telling signs of black mold and the steps to take to remove it? The fact is, only a licensed mold ...

Read More
Part of the Authority Brands Family