Port St. Lucie Water Damage Restoration
Water Restoration, Extraction & Drying for Flood Disasters
The number one factor in preventing further damage to a home or building after a water disaster is timing. Speed is essential. Our water damage restoration experts in Port St. Lucie can be on the scene quickly to begin protecting, salvaging, and restoring your home or commercial space.
Our job as a water mitigation company is to:
Remove all of the moisture from your home so mold doesn't grow
Do so as cost-effectively as possible so there are no issues with your insurance claim
Work with your insurer to settle the claim quickly
In other words, we help you avoid the 3 nightmare scenarios that typically play out if you try the water removal process on your own.
Water Extraction
After arriving, our team will quickly set up our professional grade extraction equipment in order to minimize damage to your property. Equipment includes submersible pumps, wet vacuums, and specially designed extractors for different purposes. If the water is contaminated because it originates from a grey water source or sewage, we will take the necessary precautions to dispose of the water safely.
For a water restoration team you can trust to act fast, contact us at (772) 266-5428 today.
Where Does Water Damage Occur?
One common place where water damage problems begin is under the kitchen sink. There are so many things that can go wrong in the cabinet under the sink. A supply line can leak, a sprayer faucet hose can rust through, a drain pipe can split, or a garbage disposal can crack. No matter what the reason, a slow leak can cause extensive damage. If left unchecked, water damage and mold can spread through the immediately affected area and into other cabinetry or even the drywall behind it.
Flooring is usually where people notice water damage. Water follows gravity so flooring is in the right place to find the wrong thing. Vinyl, laminate, or even hardwood floor can allow water to spread and become trapped underneath. We've seen entire kitchens have to be replaced because of extensive water damage and mold growth. That's definitely not the smoothest way to go about getting your kitchen remodeled.
How often do you inspect the cabinet under your sink? Do you ever take everything out and really scrutinize the space? Never?
You're not alone. Life is a bit too busy to prioritize the sink inspection for most people. We received a call about a wet floor in a customer's family room just north of Port St. Lucie, FL. A wall was shared between the family room and the kitchen. We opened the cabinet under the kitchen sink and everything was soaked.
All of the cleaning supplies, sponges, rags, and even the cabinet itself was saturated. And boy did it have an odor! Luckily, our team knows what to do. After declaring the sink off limits to everyone in the house, we stopped the leaky water supply line and started the water damage drying process.
Preventing Further Water Damage
The goal of the extraction and drying process is to prevent as much damage as possible. Some of the conditions that can be caused by water damage include: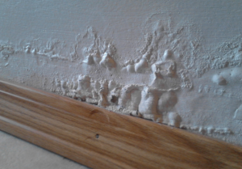 Wood Rot
Mold Growth
Foundation Damage
Drywall Damage
Carpet Damage
Our Process for Water Damage Cleanup in Port St. Lucie
There are several stages to the flood damage restoration process.
Identifying Source: If water is still entering the building, the first step is to find out where it is coming from.
Eliminating Source: The next step is to repair whatever is bringing water in, whether it be a broken pipe, damaged appliance, or some other cause.
Extracting Water: A number one priority is getting water out of the building as quickly as possible. Minutes count with water damage.
Drying & Dehumidifying: After water is physically removed, it is still present in fabrics, wood, and materials. Our team will use industrial grade machinery to speed up the drying process.
Cleaning & Sanitizing: It is necessary to determine whether personal possessions are contaminated or salvageable.
Restoration & Rebuilding: Rebuilding and replacing will be necessary depending on the state of things like carpet, drywall, the foundation and other facets of the property.
The goal of our restoration company is to provide superior customer service that will deliver the best possible end result. Getting your property back to safe and habitable conditions as quickly as possible is always our priority.
Hire a Professional Water Mitigation Company in Port St. Lucie
A lot of people assume that water mitigation is a DIY project. However, there are many crucial steps that require professional expertise to accomplish correctly.
Fully Tracking Down Water Progression
The presence and progression of moisture needs to be tracked carefully using professional moisture detection systems. Water can quickly move into hard to reach places like behind walls, up into walls, into crawlspaces, into the subfloor, or behind cabinets.
Drying Has to Be Done Quickly
Black mold growth starts sometime between 48 and 72 hours after moisture is present. Fast drying systems that eliminate water completely are vital.
Over Drying Needs to Be Avoided
Every surface in your home has some moisture in it. That moisture is needed to maintain the qualities and aesthetics of those items. When we dry homes, the goal is its dry standard. Each surface needs to be returned to the same moisture readings it had before it got wet. If surfaces and possessions are over dried, they have to be removed and replaced. Daily moisture readings are essential.
Secondary Water Damage Is Possible
If water is "removed" by mere evaporation, then it will simply travel to another area of the home, find new surfaces, and begin to cause secondary damage. Using dehumidifying equipment is necessary to trap moisture so that it does not simply evaporate.
To schedule a service or get in touch, contact our Port St. Lucie water damage professionals (772) 266-5428.