Primus Singleton III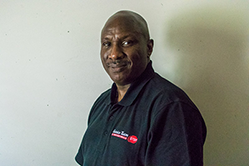 Although born in Philadelphia, PA, Primus Singleton III has resided in Wichita, Kansas since 1989. Prior to that, he was a student at Kansas State University, where he majored in Mass Communications and Public Relations. Immediately after high school, he served 7 years in the US Army and was stationed in Korea and Germany.
Much of Primus' career has been in sales and marketing. He has worked for The Wichita Eagle and The Community Voice newspapers as well as a 15-year stint with a subsidiary of Colgate-Palmolive. He currently holds certifications and expertise in various areas of property restoration..
"We look forward to serving your restoration needs and promise to assist you in putting things back together and making your situation as stress-free as possible."
Primus Singleton IV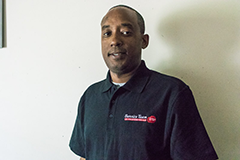 Primus Singleton lV is the co-owner and operator of Service Teams of Professionals of Wichita. He was born in Philadelphia, Pennsylvania but moved to Wichita in 1990. After graduating High school, Primus attended Wichita State University. Following college, his musical hobby blossomed and he spent five years in the local music scene playing with well-known groups. "Primus lV" holds a General Contractor's license and has a number of years in sales, the majority in the wireless industry. After spending much time working retail hours and missing the Philadelphia Eagles play on Sundays, it was time for Primus to be an Entrepreneur while serving and helping the public. STOP gives him that very opportunity.