How to Prevent Mold in Your Lake Wylie, South Carolina Home
Living by the lake has its benefits, but it does come at a price. Mold.Just the thought of it is enough to make a person cringe. Mold problems can be difficult, and to make matters worse they can also be costly.
Mold has the potential to be dangerous since it can produce allergens, irritants, and toxins that could compromise the health of your family. If it's in your home, mold can make you sick, especially if you're allergic or suffer from asthma. Mold can irritate your eyes, skin, nose, throat, and lungs even if you aren't sensitive to it.
Mold can grow in your walls, floors, appliances, carpet, and even in your furniture! How? These areas provide mold with the food it needs to grow. 
So how do you prevent mold from growing in your home?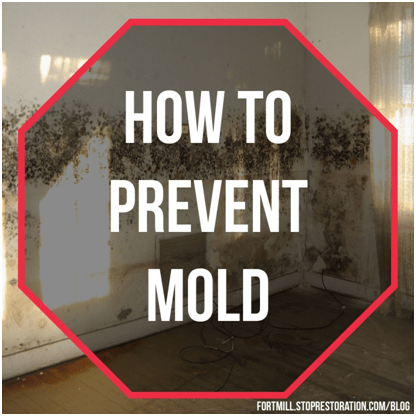 The most important aspect of mold prevention is moisture control. Mold needs moisture to grow, which is why you're most likely to find mold in damp places like- crawl spaces, basements, bathrooms, kitchens, and laundry rooms. Reducing moisture throughout the home is the best way to prevent moisture build up, and ultimately mold problems.
You can't make your home mold-proof, but we can help you to make it mold resistant.
Here are a few ways you can prevent mold problems in your home:
# 1 RULE: DRY WET SURFACES IMMEDIATELY
Remember mold cannot grow without moisture. If after heavy rainfall you see rain accumulating in your basement it should be dried within 24 hours. If you had a spill on your carpet…DRY IT! If your cat spilled their water bowl…DRY IT! Don't leave anything wet around the house. Even wiping the floor and walls after a shower can help.
IN THE SUMMER
Lake Wylie, Fort Mill, Rock Hill and the surrounding areas have a humid subtropical climate. Using dehumidifiers and air conditioners in the summer can help to reduce moisture in the air. Air conditioning drip pans should be kept clean, and drain lines must be free of obstructions to increase circulation
IN THE WINTER
In the fall and winter when the temperature goes down the air is not able to hold as much moisture. This causes condensation. Keeping the house warm can prevent mold growth by preventing condensation.
If you're concerned about mold growth in your home Call STOP Restoration at (803) 998-2456
Our Service Team of Professionals is Available to Help 24/7
Did you find this information useful? Check us out on Facebook to stay connected!
Posted By
STOP
Categories:
More Posts Like This
Do you suspect you have mold in your York County home? Arm yourself with the tools you need to determine whether you have a mold problem. Moisture creates an ...

Read More

Only 25% of homes in the United States have a fire escape plan that they practice with their family. Kids under the age of 5 have a much higher risk of dying in ...

Read More

When we think about pollutants, we think about those found outside. Emissions from combustion processes from cars and gas furnaces come to mind. Indoor quality ...

Read More
Part of the Authority Brands Family