Water Mitigation and Air Quality
Service Team of Professionals Fort Worth not only protects your property from further damage during a flood or other water damage, but we also protect your health. The manual that professional restoration companies should be using to govern how to handle water losses is the S500, which is published by the IICRC. As a professional restoration company and National franchise holding many certifications from the IICRC, we are obligated to follow the water mitigation guidelines outlined in the S500. One of the guidelines we adhere to during the water mitigation process is to make every effort to maintain air quality during the process of drying out the property - both for the safety of our crews and for the properties occupants.
During the drying process, our technicians are required to take steps to dry the property as quickly as possible. Unfortunately, many of these practices can have a detrimental effect on indoor air quality. Some of the practices include the following:
Cutting openings into walls

Can allow significant amounts of fine particulates from sheetrock, dust and fiberglass from insulation to escape into the air.

Lifting carpet and padding

Releases significant amounts of dust and other particulates into the air that were previously trapped beneath the carpet and padding

Removing wood flooring

Releases significant amounts of dust, saw dust and other particulates

Deploying high velocity air movers

Blows everything and anything that is in the property including dust, insulation dander etc. all around the property

Pressurizing wall / ceiling cavities with dehumidified air

Essentially ejects significant amounts of particulate matter that was trapped behind the walls and ceilings for years into the living space
At Service Team of Professionals, the way we mitigate these air quality and health hazards has a tremendously positive impact on the occupants' quality of life. We implement things like the following:
Containment areas that restrict the ability of contaminants to move from room to room, trapping them where they can be filtered
HEPA air scrubbers that will filter the air of all particulates as small as 0.3 microns (that's really small). Our air scrubbers will filter all of the air in a room or rooms 6-10 times per hour, every hour that they are running
Our technicians wear respirators with HEPA filter cartridges on them (when necessary)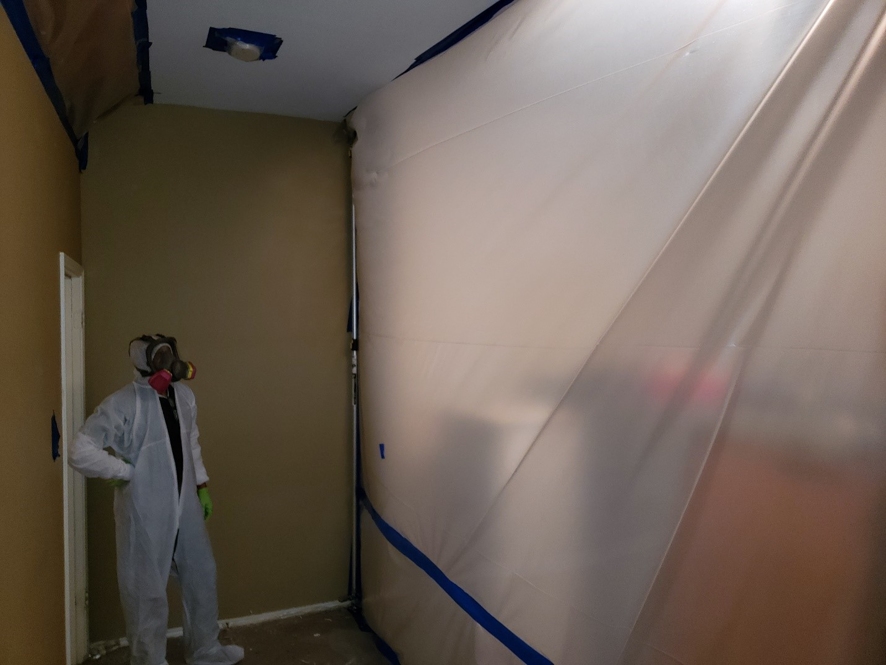 At Service Team of Professionals, here in Dallas Fort Worth, we take your health and safety very seriously. Call us today for your mold, fire or flood problem at 682-222-1009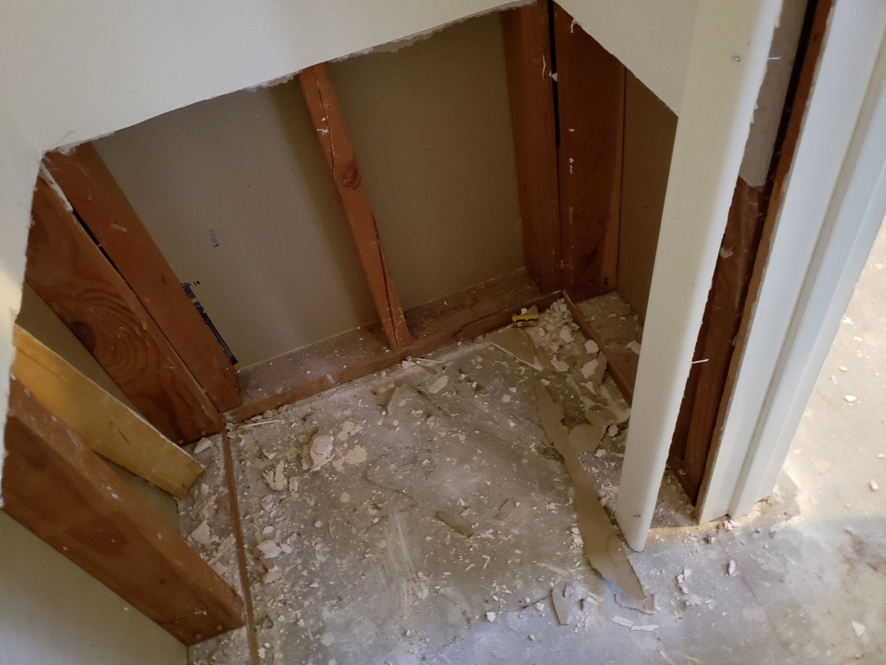 Dust and debris contained in a wall cavity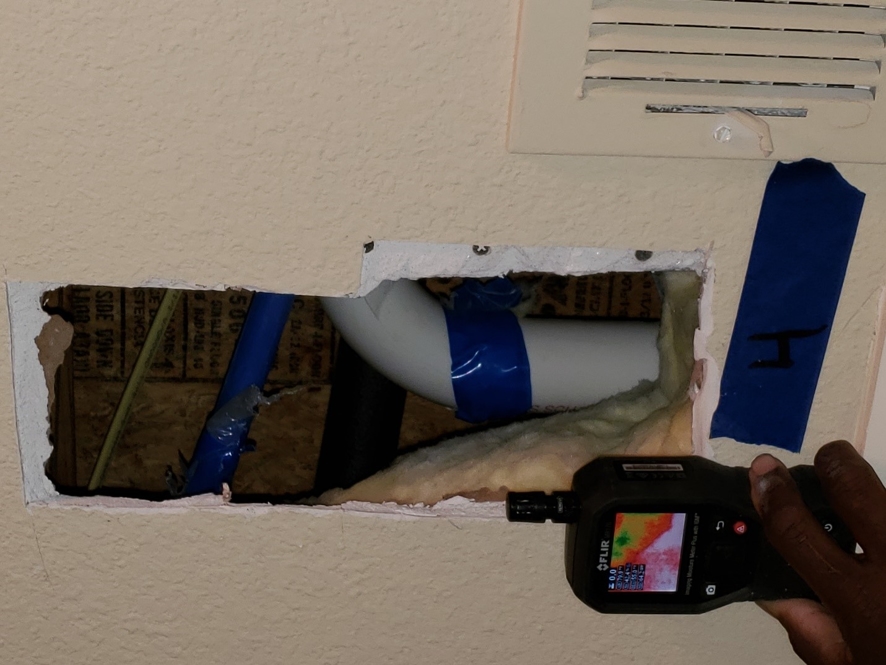 Inspection port cut into ceiling and used for forced air drying fiberglass insulation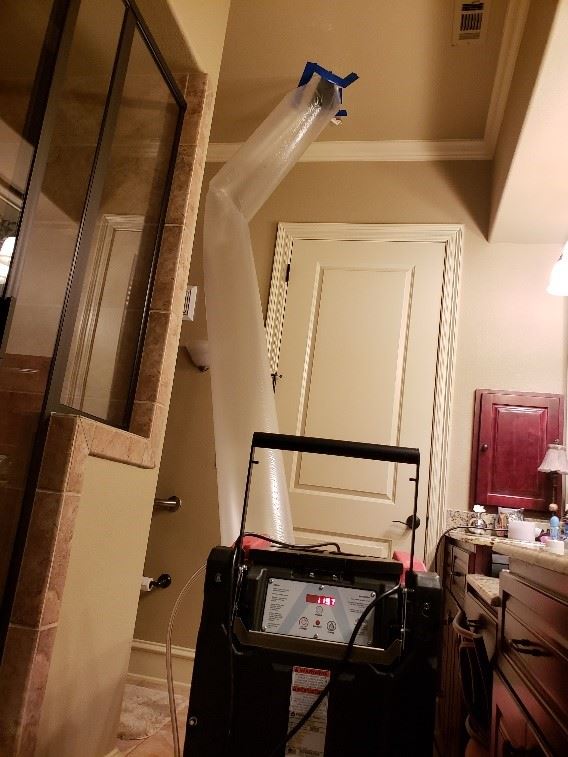 Warm dehumidified air, being forced into the ceiling cavity to dry the area between floors. This technique allows for minimal demolition and a faster return to normal conditions.
The question becomes, "how do you manage contain and control the dispersion of all of this airborne particulate matter?" Our IICRC certified technicians take several steps to mitigate the impact to air quality, we can deploy air scrubbers which are essentially HEPA filtered air movers that filter the air in the affected area several times an hour. We can install containment zones which will trap the particulate in a specific area preventing the spread of the particulate to the entire property and if the particulate cannot be avoided we utilize state of the art 3M respirators designed to filter out 99.3% or more of the particles in the air. Remember, at Service Team of Professionals, our number one responsibility is to the health and safety of our clients and our employees.
Posted By
STOP of Fort Worth
Categories:
More Posts Like This
Restoration efforts should ideally kick off almost immediately post-flooding. A flooding scenario is not to be taken lightly as such a situation is almost ...

Read More

A professional water damage restoration process can have several steps as the restoration professionals follow their operating procedures. It may even turn out ...

Read More

A flooding scenario calls for some quick action on your part as the restoration process should ideally kick off right when you first find out about it. The ...

Read More
Part of the Authority Brands Family