Time Matters with Water Damage
Water damage in your home can often be a harrowing experience, however time can be of the essence. When you notice that you have water damage, it is best to get help as soon as possible. The difference in waiting and acting quickly when it comes to water damage can be having your home just dried out within a couple of days and having your home torn apart to remove damaged materials and then needing it all put back together.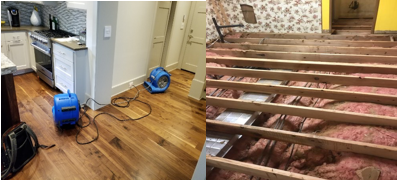 You run the risk of not having insurance coverage when things are too big to handle yourself, or the damage sat wet for too long creating more extensive damage that could have been prevented. Service Team of Professionals is a "mitigation" company. This means that we mitigate the damages. We stop the damages from getting worse. We want to do everything we can to make an already frustrating and stressful situation less painful. One way we do that is by working directly with your insurance company to get your property back to pre-loss condition (or better). By communicating with your adjuster, and sometimes agent, we can expedite the process and make everything move more smoothly. If it is not a covered claim, or you choose to pay out of pocket, we are still available to help!
By calling STOP, we can prevent further damage from occurring to your home and take care of the water damage that has already occurred. If you are unsure if it is something that you should call professionals for, give us a call anyway. We are available 24/7 and offer free inspections.
Posted By
Service Team of Professionals
Categories:
More Posts Like This
We show up in people's lives when things have gone very wrong in their home. It is not uncommon for us to hear that they did not think this would happen to ...

Read More

Did you know the p-trap below the sink is a common cause of water damage in kitchens and bathrooms? Whether the plumbing is failing causing a leak, or the trap ...

Read More

With Fall rolling in and the weather taking a turn for the worse in many areas, we think it is important to talk about storm preparedness. Each area of the ...

Read More
Part of the Authority Brands Family