Water Damage Restoration, Repair & Clean Up Services
Water Damage Repairs & Water Mitigation Done Right!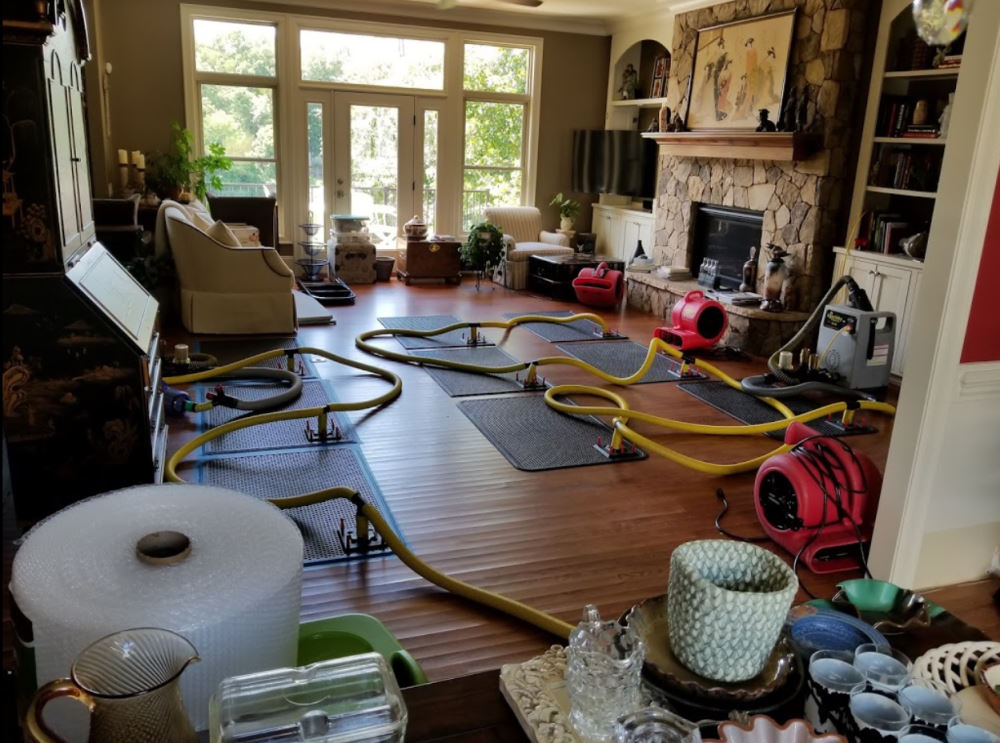 As one of the most common issues for homeowners and business owners alike, water damage comes in all shapes and sizes. Whether it's a minor leak or a major basement flood, it's always reassuring to have reliable professionals at your service. That's why customers call STOP Restoration. We're more than just restoration experts – we're a caring team of individuals who want to help bring a sense of normalcy back to your life. Knowing that even the smallest amount of water can lead to hazardous living conditions, we strive to respond in less than 90 minutes to quickly come to your aid. And for emergencies, our team is on standby 24/7 to send a crew for restoration and recovery services immediately. Along the way, we'll coordinate with your insurance to ensure all parties are kept in the loop on the restoration process.
What is Water Damage Restoration?
When your property experiences water damage in any capacity, it's critical to have specially trained technicians conduct a thorough inspection as soon as possible. Undetected and unattended water will continue to wreak havoc – damaging structural foundations and creating an environment for toxic mold growth. Using state-of-the-art equipment and specialized training techniques, water damage restoration is the process of bringing your property and possessions back to pre-loss condition. This includes removing destroyed components, cleaning and disinfecting salvageable items, thoroughly drying the space, and rebuilding structural functionality.
Prompt & Professional Water Damage Restoration Company
With over four decades of experience carefully restoring properties and valuable possessions, STOP Restoration sets the bar for helping bring life back to your home or business. When you call our team, you can rest assured that you're partnering with professionals who get the job done right the first time.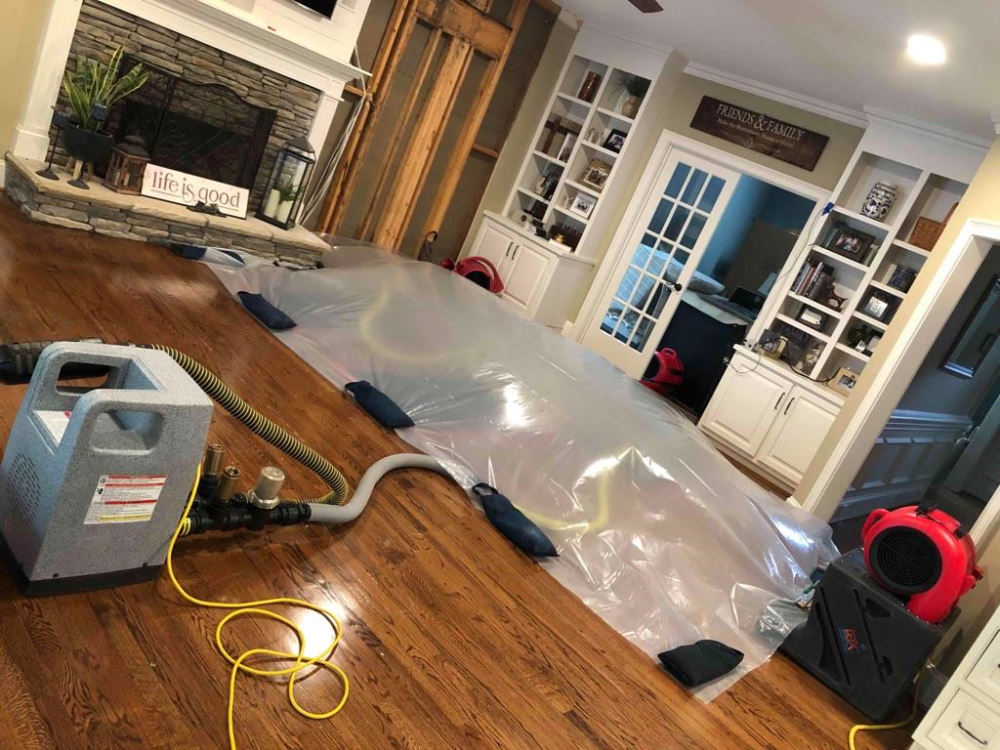 ​
Common Causes of Water Damage Include
Broken, Frozen, or Leaking Pipes
Backed Up Sewer
Clogged Drains
Heavy Rains, Storm Surges and Flooding
Toilet, Tub, or Sink Overflow
Fire Extinguishing
Failed Washing Machine Hoses
Excessive Humidity
Structural Damage
Leaking Roof
Blocked gutters
Foundation Cracks
It's typical to find ceilings, kitchens, and basements to be most susceptible to damages as they're closest to pipes and appliances that may leak. When water damage occurs, some areas become affected, which you may not see, including:
Underlays
Subflooring
Baseboards
Drywall
Insulation
Drainage Systems
Shower Trays
What You Should Do If You're Experiencing a Water Damage Emergency
Call Us Immediately with Your Emergency, 24/7: First and foremost, bring in professional assistance for the fastest and safest assistance. Dial

(844) 500-4775

and our friendly service representatives will guide you through the process and dispatch a special crew to your home or office.
Begin Removing as Much Water as Possible: Always turn the electricity off before entering a room with standing water. If you cannot access your power system without entering a water-logged room, do not attempt removal because of the risk of electric shock.
Remove Any Unattached Rugs or Floor Coverings: Moisture can weaken the backing of your flooring and ruin it beyond repair – especially if there is ample traffic in the space. Bringing rugs and mats outside of the affected area will help to prevent further water seepage throughout the floor of the room.
Move Any Susceptible Items of Value to a Safe and Dry Location: Any smaller pieces of furniture, books, and décor should be removed. Once our team arrives with a full recovery plan, we'll pack up and move out any valuable items to be professionally cleaned and restored.
---
What You

Should NOT

Do During a Water Damage Emergency
Do NOT

Enter Rooms with Standing Water: Not only does standing water pose a risk of electrical shock, but it may also be contaminated. Once the water has grown stagnant, it creates an ideal environment for bacteria growth and insect invasion, both of which come with the risk of serious health problems.

Do NOT

Disturb Visible Mold: Mold growth in a water-damaged area may be toxic. If you notice mold, it's best to avoid it or you'll risk spreading the spores further throughout your property. Our team will conduct testing to determine the level of mold before eliminating the source and ensuring your air quality is safe for return.

Do NOT

Use Any Electrical Appliances on Wet Flooring: Using a mop and blotting up excess water is the safest method – you should never use a household vacuum to try ridding the area of moisture. Not only will it ruin the appliance, but it also creates an electrical hazard. Even wet/dry vacuums will be ineffective as they are not powerful enough to remove floodwater. When we arrive, we'll utilize highly effective industry equipment to safely extract moisture and dry out the room.

Do NOT

Lift Tacked Down Carpet: Carpet removal is one of the most hazardous parts of water damage restoration. Bacteria begins growing very quickly, and exposure can lead to severe illness. Our team has extensive training and safety equipment to properly remove carpeting, pack it up, and haul it away.
Our Water Damage Restoration Process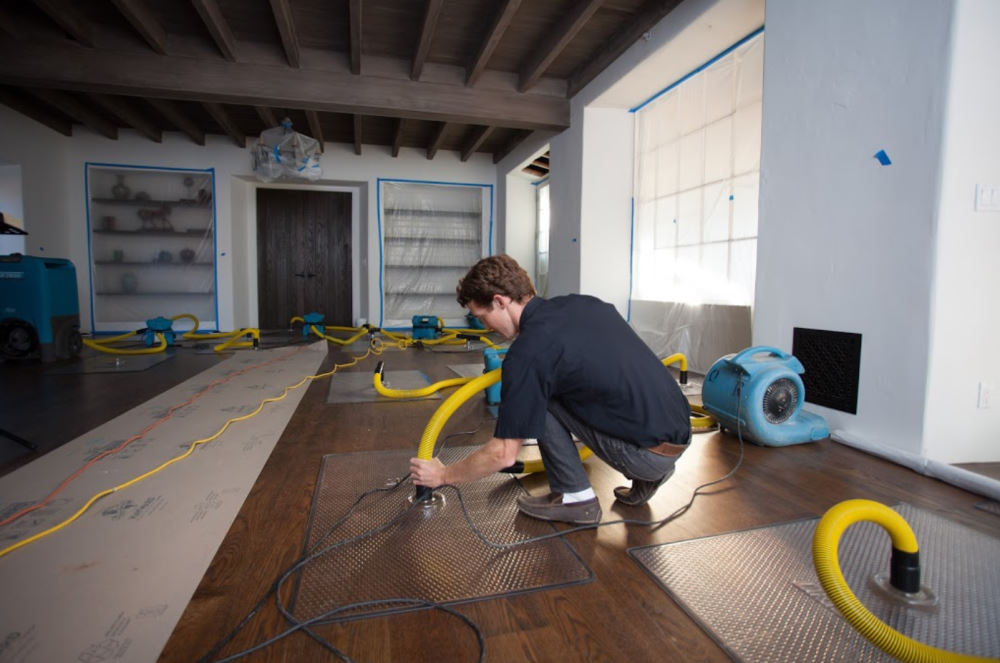 ​
We Arrive at Your Home Quickly
Even if it's 2 a.m. or a holiday, we are always available to provide the emergency restoration services you need. Since water damage begins very quickly after leaks or floods, you'll want to call for assistance as soon as the problem arises.
We Assess the Water Damage
A thorough inspection to fully understand the scope of damages ensures that every detail is tended to. Within minutes of exposure, contamination can spread. Our team will assess every component of your property, including:
How much water has entered the property
How long the water has been sitting
Whether or not the water has reached the foundation
Whether or not the water has been contaminated
How many possessions were affected
We Provide a Water Damage Restoration Plan of Action
There are various places impacted by water damage you might have included in your plan, such as:
Basement
Whether the flooding occurred from torrential rainfall, drainage problems, burst pipes, or sewer backups, the basement is often vulnerable to water damage.
Plumbing
Your pipes may have a leak or full burst, from freezing or clogs causing backups.
Drywall
However water damage starts, once it seeps within the walls, your drywall becomes a damp space for mold to thrive.
Ceiling
Water that enters the ceiling can cause sagging or falling ceilings and trap moisture, becoming another area for mold infestation.
Roof
Water leaks into roofs through improper seals, missing shingles, or damaged flashing. If left alone, it will continue down throughout the rest of the property.
Our team will work with you to establish a plan of action tailored to your situation before we start water mitigation to prevent further damages from spreading. Once mitigation is complete, we help you fully recover, handling fundamental repairs before moving on to cosmetic improvements.
We Restore Your Home from the Water Damage
You can rely on STOP Restoration for fully comprehensive water damage restoration services, including:
Water Mitigation
Move-Out / Pack-Out
Water Removal
Drying and Dehumidifying
Cleaning and Sanitizing
Complete Restoration services include:
Replacing Damaged Flooring, Drywall, and Other Building Materials
Roof Damage Repair
Mold Removal
And More
When you turn to professionals rather than trying to handle it on your own, you can feel confident that the entire problem will be solved. Though your carpet may be dry and there is no mold visible, it's nearly impossible to ascertain without the proper equipment and training. We utilize powerful equipment, including professional-grade:
Submersible Pumps
Extraction Equipment
Fans
Air Movers
Dehumidifiers
And More
Before you know it…
Your Life Goes Back to Normal
Once your possessions are thoroughly cleaned and disinfected, we'll bring everything back and help you make your house feel like home once again.
You can rest assured we will be there for you every step of the way. Consider our professionals your personal guides through this stressful time.
Water Damage Restoration Before and After Photos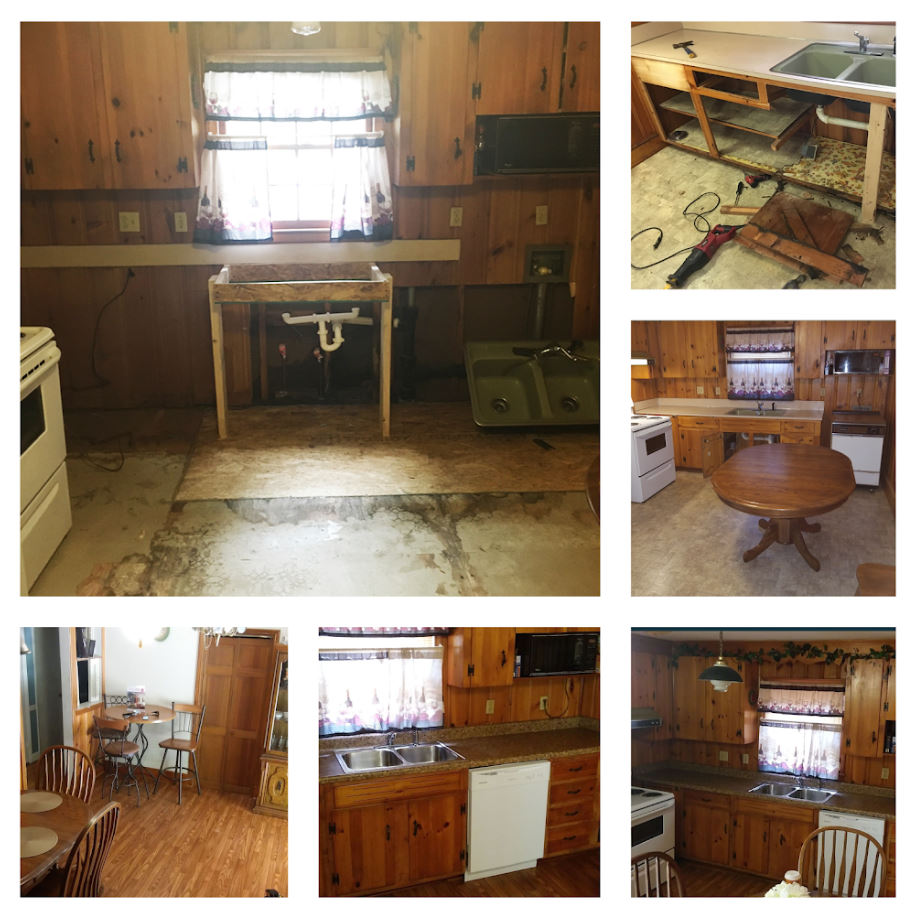 ​
It takes a team of experienced water damage restoration professionals to transform your property from condemned to beautiful again. Here are some recent examples of our work:
View Water Damage Restoration Before & After Gallery
---
How Much Does Water Damage Restoration Cost?
During our assessment of the damages, our Service Team of Professionals provides a tentative timeline for recovery and includes a pricing estimate for services. Cost will vary depending on several components, including extent of the damage, water contamination levels, and mold growth severity. These factors, among others, dictate how long the restoration process may take, thus impacting your estimate for services. More complicated jobs require more resources and time to return the property to pre-loss condition.
Factors that Determine the Cost
Categories of Water Damage
The amount of water, type of water, and time since damage started all play a role in your restoration cost. Our professionals determine how salvageable your property and possessions are based on the category of water damage. The origin of the water impacts the category it's classified within.
Classified by the Institute of Inspection, Cleaning, And Restoration Certification (IICRC), the categories of water damage signify the range of potential contamination:
Category 1: Clean Water – The least hazardous category, clean water indicates the moisture came from a sanitary source. This could include rainwater, water supply lines, or toilet tanks.
Category 2: Grey Water – The grey category indicates significant contamination. Sources may be dishwashers, aquariums, or washing machines.
Category 3: Black Water – If your water reaches category 3, it may contain toxic agents. These potentially hazardous materials come from sewage, seawater, or rain from hurricanes.
The Extent of Damage and the Area Affected
When you call STOP Restoration, you'll receive the benefit of a response time in less than 90 minutes as we understand how critical fast action is in saving both money and time on recovery.
Common factors considered for extent of damage and the area affected include:
Size of the area – the larger the area, the more time repairs take. For example, one room will likely be less costly than restoring an entire floor.
Time since the problem started - swift response and proper corrective action effects the amount of time recovery takes, as the longer problems sit unattended to, the more intensive the restoration process becomes.
Amount of water – while the size of the space impacted by water plays a significant role, the amount of water is also very relevant. A burst pipe that's addressed immediately may be a quicker repair process than addressing a steady leak that's led to toxic mold growth.
Affected materials – materials react to water in different ways, creating a variance in how recovery can take place. For example, vinyl flooring may be repairable in sections rather than damaged carpeting that requires being ripped up entirely.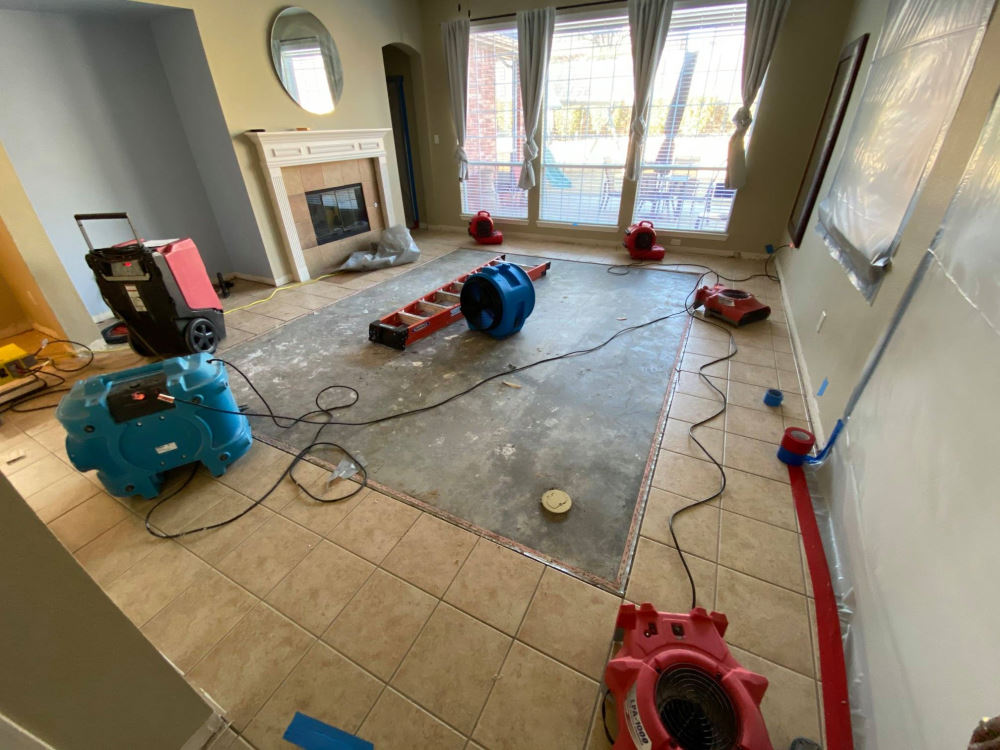 ​
Why Choose STOP Restoration for Water Damage Restoration?
We Have Vast Experience: Delivering safe and effective water damage restoration services for several decades, we've seen it all. Through the years, we've time-tested our techniques to perfect our services, always staying up to date on the latest technologies.
We're Committed to Customer Satisfaction: Your well-being and safety are our top priorities throughout the restoration process. We consult with you every step of the way and are always available to answer questions or concerns.
We're Fully Vetted, Trained, and Insured: You don't have to worry about handling damages – we'll handle the restoration so you can focus on your health and family.
We're Big on Planning: Rather than pick a spot and start, our team creates a well-rounded written plan and sees it through to the end. Not all restoration companies do this, but we find it crucial when delivering proper assistance.
We Coordinate with your Insurance: Navigating the insurance claim process can be overwhelming during this stressful time. That's why we strive to work closely with your and your insurance agent to ensure you receive all the help you're entitled to under your homeowner's policy.
We Focus on Reducing or Eliminating Health Risks: Knowing how dangerous water damage can become, our team works hard to remove potential hazards and keep you safe.
We Provide Upfront, Honest Pricing: Before any work begins, you'll have transparent pricing laid out. We'll never surprise you with hidden fees or upcharges at the end of our services.
We Provide Water Damage Homeowners Insurance Claim Assistance
We're Available 24/7 for Emergency Water Damage Restoration Services. Call (844) 500-4775 Today!