STOP Panicking: Water Damage 1, 2, 3, 4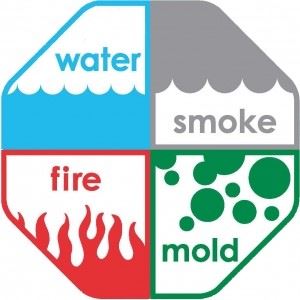 We know that water belongs in a very few, select areas in our home. What should we do when we find water where it doesn't belong?
Step 1 – Stop the water. If the water leak is coming from an appliance or plumbing fixtures, shut off the water supply. There is usually a small hose that connects the appliance or fixture to the wall. Depending on the style you have, either turn or push the knob until the water turns off. When all else fails, turn the water off at the main line to your house. In fact, it's always a good idea to know where all of the utility shut off valves are located.
Step 2 – Make phone calls. The first call may be to your insurance company. Water damage can be expensive and many homeowners will file an insurance claim.
Step 3 – The next call should be to Service Team of Professionals of Spokane. (509) 260-8166. We are a 24 hour property restoration company. Water, fire, smoke or mold, we will come out any time of day or night to begin the damage mitigation process. The first 24 hours are crucial, so call STOP to get started right away, because things don't get damaged by getting wet. They get damaged by staying wet.
Step 4 – Relax. STOP has it under control. Our expert water damage technicians will begin work immediately. We will answer any of your questions and help guide you through the entire process. Our compassionate office staff and skilled technicians will help put you at ease. If you choose to file an insurance claim, we'll be happy to coordinate with your insurance company. Service Team of Professionals of Spokane is a full service property restoration company. We can perform water damage mitigation and restore your house to pre-loss condition. (509) 260-8166
Posted By
Brian Clark
Categories:
More Posts Like This
Want to know what exactly the Coronavirus is and how you can protect yourself from contracting it? Read on to find out! COVID-19 has continued to spread terror ...

Read More

Water damage is one of the most terrible events which can occur in a home. It not only causes inconvenience but if not handled in time, it can lead to serious ...

Read More

From faulty plumbing to natural disasters, there are many ways through which flooding can damage your home. If this happens to you call Service Team of ...

Read More