The Mold Remediation Process
Service Team of Professionals performs mold remediation on a regular basis. We serve Fort Mill, Rock Hill, York, Charlotte, Waxhaw, Monroe, Lancaster and the surrounding areas. We always perform mold remediation within airtight containment of contaminated areas. We also create negative air pressure in each work area to insure against polluting other areas of the home or building. We understand how important it is to protect your family and your property from mold exposure.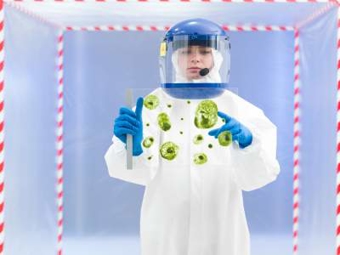 Here Are A Few Tidbits About Our Mold Remediation Process:
Our technicians follow OSHA guidelines for their personal protection. This includes respirators, body coverings and other protocol.
Airtight containment protects your home from cross contamination. Each mold remediation is performed within airtight containment that is built specifically for each new job. The air inside containment is constantly filtered to remove airborne mold spores. Before containment is removed and disposed of, it is thoroughly cleaned to ensure there will be no issues with contaminating previously unaffected areas of your home.
Mold needs food and water in order to grow. The source of water must be identified and repaired before mold remediation can take place. Otherwise, it's kind of like washing your car while it's raining: pointless!
Proper personal protective equipment and training are both essential to safely and thoroughly remediate mold. Our mold remediation technicians wear face masks, respirators, gloves, and Tyvek suits while performing mold remediation. This allows them to do their job without exposing themselves to mold or mold spores.
A full scale mold remediation may take several days to complete. Service Team of Professionals is very thorough. We will keep you informed of our progress throughout the entire process.
Mold doesn't just go away.
Posted By
STOP Restoration
Categories:
More Posts Like This
Do you suspect you have mold in your York County home? Arm yourself with the tools you need to determine whether you have a mold problem. Moisture creates an ...

Read More

Only 25% of homes in the United States have a fire escape plan that they practice with their family. Kids under the age of 5 have a much higher risk of dying in ...

Read More

When we think about pollutants, we think about those found outside. Emissions from combustion processes from cars and gas furnaces come to mind. Indoor quality ...

Read More
Part of the Authority Brands Family