SMOKE DAMAGE RESTORATION SERVICE
Serving Chicago Metro / Chicagoland Area: Naperville, Aurora, Plainfield, Wheaton, Downers Grove, Bolingbrook, IL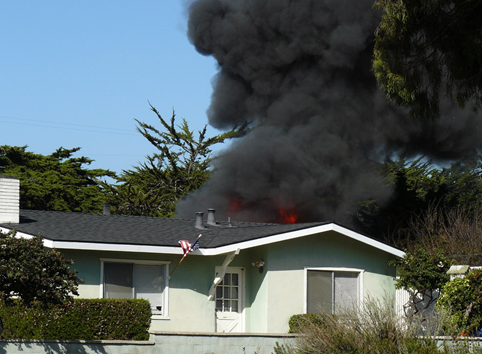 A house or commercial property fire is an unquestionably destructive incident. However, the fire alone doesn't cause as much damage. Soot and smoke cause secondary damage to your property, which is often much worse than the actual fire!
Smoke and soot can quickly stain porous surfaces, such as walls and ceilings, corrode metal, and tarnish clothing. This is why you need to be quick on your feet and call Service Team of Professionals.
We will work quickly and efficiently to remove soot and smoke before it settles on your property, causes structural damage, and results in multiple health issues.
Within no time, we will return your property to its original condition so that your life can return to the way it was!
WHY ENTRUST STOP WITH YOUR FIRE DAMAGED HOME?
Unmatched Experience - Service Team of Professionals has more than 40 years of service experience in the industry. Over the years, we have helped numerous property owners just like you!
Highly Trained Professionals - All our employees are trained and have IICRC-certification. They know how to use state-of-the-art tools and can remove smoke and soot from your property immediately.
Exceptional Response Time - STOP understands the critical value of quick restoration, which is why we reach the scene of the incident within 90 minutes. Plus, our technicians are available to you 24/7.
Guaranteed Customer Satisfaction - We ensure consistent, honest, and clear communication with our customers throughout the restoration process to ensure your peace of mind.
HOW STOP DEALS WITH SMOKE DAMAGE
At STOP, our proficient team knows how to deal with property damage caused by smoke and soot. We use our dedicated knowledge, unmatched experience, and advanced equipment and tools to clean and restore your property.
First, we identify all the surfaces and materials that are covered with soot and smoke. We separate the salvageable items from the unsalvageable ones. Next, we work with our tools to remove ash residue from the surfaces and clean and repair them until they're back to their original condition.
We will also identify the source of the smoky odor by inspecting your belongings, such as upholstered furniture, clothing, draperies, and carpets. These items are prone to smoke damage as they easily retain the tiny, odor-causing molecules within their fibers.
Our certified team uses tailored methods to break up and neutralize these molecules from the objects and eliminate the strong smoke odor. Then, we make sure to clean all of your belongings until they are as good as new.
OUR SMOKE DAMAGE RESTORATION SERVICES
Here are our key smoke damage restoration services:
Smoke Damage Cleaning – We identify all the affected surfaces, remove ash residue from them, neutralize the smoky odor, and clean them till they're fully restored to their former condition.
Deodorization –We used advanced equipment and our expertise to deodorize all of your belongings to remove the stubborn smoke odor from them.
You can count on Service Team of Professionals to be at your doorstep whenever the need arises! You can call us today at or reach out to us on our website right now.