COMMERCIAL RESTORATION SERVICES
Serving Chicago Metro / Chicagoland Area: Naperville, Aurora, Plainfield, Wheaton, Downers Grove, Bolingbrook, IL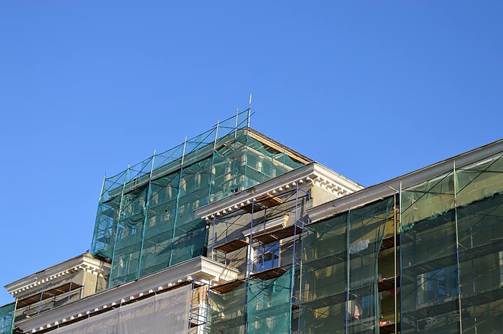 The appearance of your commercial property can make a lasting impression on your clients. So, when it comes to commercial restoration after a catastrophe, you should hire only the best of the best. This is where we come in.
Service Team of Professionals (STOP) can hold your hand in your time of need.
At STOP, we understand the importance of restoring your commercial property with minimal to no disruptions and can develop an effective and efficient recovery plan for you.
STOP works proficiently to evaluate the damage, clean the property, and deliver long-lasting repairs.
Our team has extensive experience in the restoration industry and knows how to deal with all sorts of commercial property damage— be it fire, mold or water damage. At the end of the day, no project is too big for us.
AN OVERVIEW OF STOP'S COMMERCIAL RESTORATION SERVICES
FIRE AND SMOKE DAMAGE
Commercial fires can be devastating to your business. Fire doesn't just cause structural damage, but it also causes secondary damage to your property in the form of smoke and soot. If mishandled, these byproducts can easily disrupt your plans to return to business as usual.
However, you must not allow fire and smoke damage to bring your business to a halt!
Contact STOP right away for excellent and reliable fire and smoke damage services. Our professionally-trained IICRC-certified restoration technicians are well-equipped to deal with all sorts of fire and smoke damage. We will restore your commercial property to its pre-loss condition and get you back on track as quickly as possible.
Our fire damage restoration services include:
Content and Structure Cleaning and Demolition
Board-Up Service
Pack-Out and Storage
WATER DAMAGE
Water damage can range from heavy rainfalls and sewage backups to largescale commercial flooding. Regardless of the type of water damage you have suffered, your best bet to minimize the damage is to act quickly.
So, don't wait until it's too late and put your trust in STOP right now!
Hire our services for immediate water extraction from your commercial property. We understand that standing water can lead to devastating structural damage. This is why we reach the scene and come up with an extraction plan swiftly. We will make sure to rid your property of all the standing water. We will also clean and dry it thoroughly to prevent the risk of secondary water damage.
Our water damage restoration services include:
Sewage and Backup
Extraction and Drying
MOLD DAMAGE
Mold has a terrible tendency to grow rapidly in moist, warm, and hidden areas. So, if you spot mold growing on your commercial property, it's highly likely that the growth is more advanced and widespread than it seems. You simply can't ignore mold growth because the longer it is left unattended, the more damage it will cause to your property and health.
Stop mold from taking over your building by contacting Service Team of Professionals today!
Our professional mold remediation experts will scour through your property until they find the source of the growth. You can rest assured that we won't rest until we have stopped the mold right in its track. We will also provide you with helpful tips to prevent future mold growth.
Our mold damage restoration services include:
Mold Inspection
Mold Remediation
WHY SHOULD YOU CHOOSE SERVICE TEAM OF PROFESSIONALS?
With over 40 years of service experience, STOP continues to serve property owners just like you!
STOP understands that countless livelihoods are tied to the daily operations conducted in commercial buildings. This is why we make sure your business is up and running in no time.
If the damage isn't widespread, then we can also work behind the scenes in a non-disruptive manner as you continue using your building as usual.
Our team is highly equipped, certified, and trained to handle all sorts of property damage. Our experience and skills enable us to formulate a seamless action plan, which we execute promptly to restore your property.
We use high-tech tools and successful techniques to ensure that you don't suffer from further damage.
Available Round-The-Clock With Fast Response Times! We serve customers in Aurora, Chicago, Downers Grove, Naperville, Woodridge, IL, and the surrounding areas!
CALL US TODAY AT OR SCHEDULE A SERVICE ON OUR WEBSITE RIGHT NOW!