Common STOP Questions Raised by Prospective Franchisees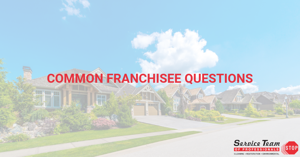 The process of becoming a new business owner is a learning experience that educates in a number of ways. As 2019 begins and new ventures are sought after, it's important that anyone looking for their next move, whether it be independent or franchise-specific, knows what they're getting into before fully committing.
As a prospective franchise owner, we're conscious of questions that may arise -- especially when it relates to the home restoration industry. For those individuals who are interested in learning more about who STOP is and what comes with owning a restoration business, we've compiled a list of frequently asked questions below to help determine if our model is for you!
Q: How Much Does a Franchise Cost?
A: While there's never an exact number, we can say this: STOP Restoration is consistently ranked among the Top Low-Cost Franchises as ranked by Franchise Business Review. We're proud to offer initial startup costs as low as $78,400, which includes everything from the franchise fee to associated costs for tools, insurance, and other expenses.
Q: How Long Does It Take To Become an Owner?
A: Great question. We know you're excited and amped up to become an owner, and great things take a bit of time. While this process is not overnight, you can expect to receive ample training and setup in the interim before opening up your doors. Most new franchisees make it to training in 60-90 days after finding STOP. Doors are open 30-60 days after that. Your guidance begins right away because you'll be involved with us from day one, so the process actually feels shorter than it actually is.
Q: Is Your Franchise Lucrative?
A: While this depends on a number of factors, the opportunity to turn a big profit is certainly there! Our average sales for locations five years old or older usually tops $1,000,000. While restoration is a little more complex than making cookies in the mall, your goals and application of our 40-plus year program will be a controlling factor in your first few years. Speaking with our franchisees is a great way to get a better feel for how you'll perform.
Q: I Don't Have Experience In This Field -- Do I Qualify?
A: Many of our franchisees have little to no experience in water damage, mold remediation or construction before they begin their journey with us. Through STOP's training program, you'll receive training and guidance based on your experience level which will help prepare you as a business owner. Believe nobody that doesn't add "fire in the belly" as one of the driving forces in any service industry. Our team will prepare you with everything you need to have confidence in your goals and to be a great STOP team member!
Are you interested in becoming your own boss, owning a franchise and growing as a business owner? STOP Restoration has been providing meticulous and unsurpassed service to both home and business owners alike -- and you can be a part of that success! Our franchisees have worked on over 167,000 individual cases of water, fire, smoke and storm damage, and we're only getting started! Think you have what it takes to join our family of franchise owners? Fill out our contact form here or give us a call at (844) 422-4425 to learn more!
Posted By
STOP Restoration
Categories:
More Posts Like This
Most people have never suffered a water damage or fire in their home or office. So it's logical that they've never heard of the water damage restoration or any ...

Read More

Most people don't know that water damage, fire damage, mold and biohazard remediation is an industry. What connects these various services? Two things connect ...

Read More

Service-based, locally owned franchises have competitive benefits that many other businesses simply do not have. As an owner, you're able to be your own boss, ...

Read More
Part of the Authority Brands Family