3 Qualities Successful Franchisees Must Have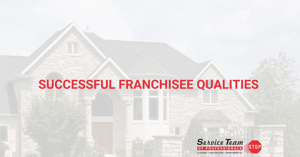 Whether it's your first business or you're a seasoned veteran with years of experience, one thing is true among all whom are successful -- they possess qualities that only a select group of people have. No matter if this is within the food service industry, a family-owned business or a franchise, perfection takes a lot of time, effort, and most importantly, dedication to your craft in order for it to be the best it can be. With STOP Restoration, we're always looking for dedicated individuals who are interested in owning a lucrative and rewarding business -- and our franchisees are proof of that! But before opening the doors to your own franchise, there are a number of qualities that are preferable to have in order to better increase your chances for overall success.
1. A Clear Vision
Success always begins with careful planning, and flawless execution -- just ask any successful business owner! It's important to understand that knowing your moves before they need to be made is a great help in understanding what you need to do to thrive as a business owner.
This begins well before you build your business, and requires you to think and plan out a general timeline for its progression and growth. It's important to understand that franchise or not, no business will shape itself, and becoming a successful owner requires you to jump right into the trenches and help mold it into the business you've always envisioned. As a franchisee of STOP Restoration, our franchising team will help you along this path through planning and execution to ensure that you follow brand guidelines that have helped previous franchisees succeed before you.
2. Effective Planning
After you've placed importance on the vision for you and your business, it's time to begin planning, which is the next big step on the road to success! As a new franchisee at STOP Restoration, we make some of the process easy, providing training for our processes and pairing you with a development team to make the process that much easier. Prior to becoming a franchise, STOP built its consulting reputation on business planning. Everything starts with a plan. This includes everything from planning out your staff, location, detailed marketing efforts and more! The excitement during this stage is usually very high due to the realization that piece by piece, everything is coming together and you're one step closer to opening the doors to your franchise -- and it works best with a plan in place!
3. Outline Goals
Sure, profits are on the minds of every franchise owner across the world; who doesn't like more money?! But for the sake of your business after five, ten, even twenty years, it's important to have goals outlined for each milestone and continue setting new ones as you check others off of your list. Depending on your overall timeline, this helps greatly with understanding the urgency and dedication it will take in order to be a successful business owner within your industry, as well as the potential for expanding it to other areas as time goes on.
Your goals are also a means of learning how you prioritize things, both business and non-business related. As a franchise owner, this will help place importance on what is a top priority, and what can be placed on the backburner. As you follow the STOP system and work with our consultants, your progress will provide a clear indication of your path to success. This breeds real motivation based on measurable accomplishments. Goals and constant discipline are the keys to sustained growth in any business.
Are you interested in becoming your own boss, owning a franchise and growing as a business owner? Service Team of Professionals ("STOP") has been the nation's premier cleaning and restoration company for over 20 years, providing meticulous and unsurpassed efforts to both homes and businesses alike -- and you can be a part of that success! Our franchisees have worked on over 167,000 individual cases of water, fire, smoke and storm damage, and we're only getting started! Think you have what it takes to join our family of franchise owners? Fill out our contact form here or give us a call at (844) 422-4425 to learn more
Posted By
STOP Restoration
Categories:
More Posts Like This
Most people have never suffered a water damage or fire in their home or office. So it's logical that they've never heard of the water damage restoration or any ...

Read More

Most people don't know that water damage, fire damage, mold and biohazard remediation is an industry. What connects these various services? Two things connect ...

Read More

Service-based, locally owned franchises have competitive benefits that many other businesses simply do not have. As an owner, you're able to be your own boss, ...

Read More
Part of the Authority Brands Family