Service Team Can Work With Your Contractor – Winston-Salem, North Carolina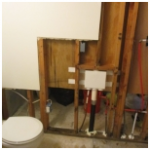 At Service Team, we specialize in water, fire, smoke and mold damage clean up but we know that there are a ton of great contractors and builders out there too who are also very capable of completing the repair portion of the project.
In many cases, we will work to mitigate the damage (structural drying, removal of charred materials, surface sealing and cleaning) and then transition the project to another contractor that the homeowner already knows or has a relationship with so they can complete the repairs.
We offer full service restoration and are always happy to help put everything back together for our customers but sometimes they've got a friend or neighbor who needs some work or just a trusted contractor they've worked with for years. In those cases, we perform mitigation services to ensure the structure is safe. After that portion of the project is "complete" we turn things back over to the homeowner to contact their preferred contractor. It also usually helps if we can meet with the next contractor to show them what was done and explain why certain demolition activities were or weren't performed. This usually helps them understand the project more clearly and allows them to move forward on the repairs with less uncertainty.
We've done this for several customers recently in King, Wintson-Salem and Jonestown. We aren't a high pressure company so if you need assistance after a water loss, fire damage, smoke damage or mold give us a call and we can help get things back to normal as quickly as possible whether that's by having us complete the entire project or if that means having us perform mitigation and allowing you to select other repair contractors. We've even helped customers on just the repairs after other companies perform mitigation. We're here to serve in any way we can; just give us a call (336) 203-0739
any time.
Posted By
Service Team of Professionals
Categories:
More Posts Like This
After you have suffered a loss on your property, you may reach out to a mitigation contractor like Triad Service Team before you speak with your insurance ...

Read More

Every day, property owners across the country are faced with water in places that it's not supposed to be. It comes from appliances malfunctioning, water lines ...

Read More

So, you wake up to soggy wet carpets in your living room, after some inspection you find that the heavy rains have caused your garage to flood and water is ...

Read More
Part of the Authority Brands Family