Water Loss in Winston-Salem – Winston-Salem, NC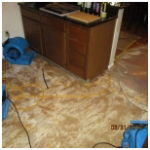 We were called to a customer's home recently in Winston-Salem. They had a water loss a few months before and had attempted drying the area themselves. Eventually, they called their insurance company for help. By that time, portions of their hardwoods had buckled some had cracked and separated, the flooring in the kitchen was delaminating and their home was in disarray with some carpet cut out.
Needless to say they were more than ready for us to get to work right away. As we started the evaluation process we discovered that the floor had a bit of a slope into 1 corner and then some openings that lead to the crawl space. Luckily most of the bulk water followed that path rather than soaking into the materials for months.

We found that the kitchen floor however was still very wet underneath. As we removed the flooring, we found 2 additional layers of vinyl flooring beneath. Water had gotten under the bottom layer and was trapped with no place to go and no effective way to dry. We removed all the kitchen flooring, toe kicks on the cabinets and set up our drying equipment by lunch.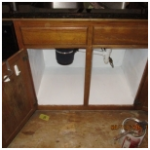 In a matter of days, we had the area dried and could begin the repairs. The cabinets had swollen a bit so we needed to make an adjustment to the lazy susan and needed to rebuild the interior of the sink cabinet where the problem had occurred. Because we take care in isolating damage and minimizing demolition, none of the cabinets needed to be replaced and their beautiful granite countertops were unharmed.
We even helped them find a flooring company. They wanted to handle that portion themselves but didn't know who to contact so we passed along a few names of companies we've worked with in the past so they could go to the showrooms and make their selections.
Another very satisfied customer with an outstanding review of our services.
Written by Ben McDonald – Triad Service Team of Professionals
Posted By
Service Team of Professionals
Categories:
More Posts Like This
After you have suffered a loss on your property, you may reach out to a mitigation contractor like Triad Service Team before you speak with your insurance ...

Read More

Every day, property owners across the country are faced with water in places that it's not supposed to be. It comes from appliances malfunctioning, water lines ...

Read More

So, you wake up to soggy wet carpets in your living room, after some inspection you find that the heavy rains have caused your garage to flood and water is ...

Read More
Part of the Authority Brands Family