Decide and Conquer Self-Employment with Goals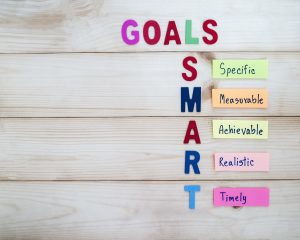 Decisions can be difficult. Big decisions (like choosing a franchise) can require a virtual timeout in your life in order to have clarity.
A career change that considers self-employment (with a franchise or not) is a big decision.
Founded by a sociology graduate, elements of human behavior play a big role in guiding our Service Team of Professionals franchisees everyday. The catalyst between setting goals and reaching goals is often missing for most goal-setters. This can add to the stress and mystery of deciding to be self-employed.
There are key ingredients that can guide behaviors and change fear into confidence. Any good business advisor brings behavior guiding principles to their clients. A franchise should do the same and be more than just a logo. It should be a complete business achievement system with a logo. Hint: The system and the people behind you - not the logo – will have 99% to do with your success in any franchise.
Deciding on self-employment and conquering goals requires visibility, measurement, and sustained confidence. Sense of urgency can be produced when goals are internalized. There really are ways to get a person to JUMP into new behaviors when the catalyst between setting goals and achieving them is in place.
Confidence starts with knowing that others have been in your shoes. It is natural to see a new goal as challenging and mysterious. A big piece of S.T.O.P.'s system is in getting new franchisees to see past the fear of "new," past the initial loneliness of self-employment, and the end of a paycheck signed by someone else. Goals are also very daunting if one is setting their first BIG GOAL. Self-employment is a big goal.
Service Team of Professionals' "Master Business Planning" system will give you direction. Our marketing and management systems will provide the tools along the way. Our training and on-call consulting and coaching is the catalyst that brings it all together and develops your skills to reach each "next level."
You may be looking for a franchise. You may be trying to decide between a franchise and doing something on your own. Penciling out the math on these choices is highly recommended. Most people laugh after this exercise. You may marvel at how inexpensive a franchise can be.
After the Franchise Fee (the "ticket to the dance"), you might pay a franchisor less than $20,000 in the first year. Where can you find an expert in any field for less? Just be sure that you choose a franchise that has a comprehensive management and marketing system with high support in place. These are the franchise brands that have happy franchisees.
Conquering the decision to become self-employed is the first step. The next step is to find that brand, system and people that impress you and hold up under scrutiny. You should EXPECT a proven track record. If, instead, you get little more than a logo, a couple weeks of training and a handshake as you head home to a lonely existence without support, you should keep your job or consider going it alone in self employment.
Service Team of Professionals has depth. Our program leaves no stone unturned. Everything you will need to know to be a great restoration company executive is here for you. We have a four-decade track record of integrity, real training and real involvement with our franchisees. You may be able to make donuts without a solid support system, but service industries are a bit more complex (and luckily, more lucrative).
We help you conquer self-employment. We come to work everyday and invite questions and updates from our franchisees. We help with your business decisions. We have done this before. (Our biggest and best franchisees call us the most). We hold three conventions each year. You'll have a nationwide network of S.T.O.P. friends on your SERVICE TEAM.
We Build Companies... and this is what building a company looks like. This is what building a company requires from the mentor. Choose STOP to be your mentor. S.T.O.P. asks for a chance to help you decide and conquer self-employment.
Posted By
STOP
Categories:
More Posts Like This
Most people have never suffered a water damage or fire in their home or office. So it's logical that they've never heard of the water damage restoration or any ...

Read More

Most people don't know that water damage, fire damage, mold and biohazard remediation is an industry. What connects these various services? Two things connect ...

Read More

Service-based, locally owned franchises have competitive benefits that many other businesses simply do not have. As an owner, you're able to be your own boss, ...

Read More
Part of the Authority Brands Family