How You Can Thrive As A Part of the STOP Family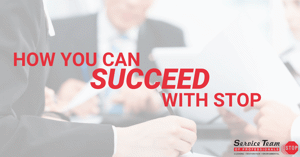 Owning your own business is a process where one can learn more about themselves, grow as both an individual and a leader, and make an impact within their community. The joy of opening the door to your own company each morning is felt by few, even though it's achievable by all!
In becoming a member of the STOP family, you get all of these benefits, and so much more that can help you professionally for the rest of your career. Below are a few of the reasons our franchisees thrive with us.
Proven Training Methods
When you're a franchisee with us, our goal is to help you succeed by any means possible. From the outset, we offer comprehensive support and training to make sure you're ready for the job as soon as your doors open. Our industry practice stretches back over 40 years, so we've certainly spent some time nailing down what it takes to be a successful business on both the local and national level.
During your training period, you can expect lessons on:
Business practices
Restoration
Industry knowledge
Estimating
Technical hands-on
Marketing
Ongoing Support
The process to your franchisee venture begins with a number of steps that also provide lasting knowledge from a number of restoration experts. This allows you to learn our business model inside and out, leaving you with key takeaways throughout each step to help effectively run your business.
Q&A sessions and three conventions each year are held specifically to help keep you on target and facilitate relationships and exchange between franchisees. It's with these tools that you're put in a position to help transform both your life AND business, creating a new stream of income under a successful name, led by a successful owner.
With over 40 years of business coaching and franchise industry experience, STOP Restoration's franchise support team is ready to help you implement winning strategies within the home damage restoration space.
Our franchisees have worked on over 167,000 individual cases of water, fire, smoke, fire, storm damage and biohazard, and we're only getting started! Think you have what it takes to join our family of franchise owners? Fill out our contact form here or give us a call at (844) 422-4425 to learn more!
Posted By
STOP Restoration
Categories:
More Posts Like This
Most people have never suffered a water damage or fire in their home or office. So it's logical that they've never heard of the water damage restoration or any ...

Read More

Most people don't know that water damage, fire damage, mold and biohazard remediation is an industry. What connects these various services? Two things connect ...

Read More

Service-based, locally owned franchises have competitive benefits that many other businesses simply do not have. As an owner, you're able to be your own boss, ...

Read More
Part of the Authority Brands Family