Spring Cleaning in the Crawl Space Can Pay Dividends All Year – Thomasville, NC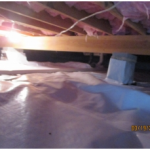 Because we often add vapor barriers and insulation in crawl spaces we offered to help a customer with sealing his crawl space with a more efficient vapor barrier. Code requirements for vapor barrier are fairly straightforward but he wanted to go with something that would be more durable and provide a better seal. He also happened to work for a sister company of a manufacturer here in North Carolina that produces vapor barrier materials.
We reviewed the data sheets and researched the materials. They seemed to be high quality so we agreed to use the product for the installation. The install steps were very similar to standard vapor barrier installation with the addition of sealing up the walls and columns.
After using the product, I have to say, I'm a believer. Before the barrier was fully sealed in place, the relative humidity dropped by over 10% in the crawl space. We expected the humidity to decline but didn't expect it to decline so quickly.
Now our customer has a clean, safe environment under his home with controlled humidity levels and conditions that will not support microbial growth now or any time throughout the year.
Since using the product I've established a supply arrangement with the company so we can offer the product to our customers sealing crawl spaces for a fraction of the cost of most companies in the area. If you're interested in replacing or upgrading your vapor barrier to something more substantial, durable and that will provide a better seal give us a call at 336-829-5345.
Written by: Ben McDonald, Triad Service Team of Professionals – Winston-Salem, NC
Posted By
Service Team of Professionals
Categories:
More Posts Like This
In many cases, big problems start out as small maintenance issues that get overlooked. Developing a regular inspection cycle will help you keep an eye on ...

Read More

Here at Triad Service Team of Professionals we strive to provide exceptional service, on a consistent basis. We believe that the key to success is in the ...

Read More

Here at Triad Service Team of Professionals we have provided bio contamination remediation since we opened in 2014. These services range from cleaning up after ...

Read More