Dangers of Lead Exposure During Reconstruction or Remodeling
It's important that if your home was built before 1978 you have the paint tested anywhere it will be disturbed. At STOP we use 1980 as our guideline because of the possibility that lead based paint could have been on a retail shelf for quite a while after production was discontinued. Here's a chart from the EPA showing the likelihood of lead presence in homes based on the year they were built.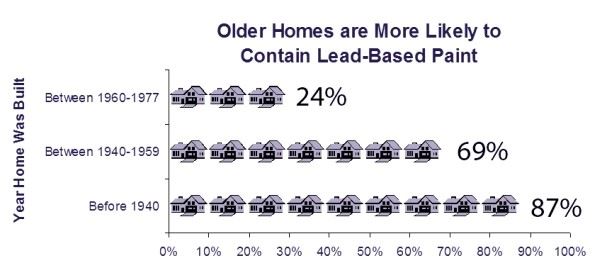 Lead is extremely hazardous, especially for children and can cause permanent neurological damage if they are exposed to lead paint or the dust that is often generated during reconstruction projects.
We are a North Carolina Lead Certified Firm and have been trained on the dangers of lead exposure as well as the containment and cleaning methods that are required to keep your family safe during reconstruction.
Posted By
Service Team of Professionals
Categories:
More Posts Like This
After you have suffered a loss on your property, you may reach out to a mitigation contractor like Triad Service Team before you speak with your insurance ...

Read More

Every day, property owners across the country are faced with water in places that it's not supposed to be. It comes from appliances malfunctioning, water lines ...

Read More

So, you wake up to soggy wet carpets in your living room, after some inspection you find that the heavy rains have caused your garage to flood and water is ...

Read More
Part of the Authority Brands Family