Top 4 Reasons to Hire a Professional When Dealing With Water Damage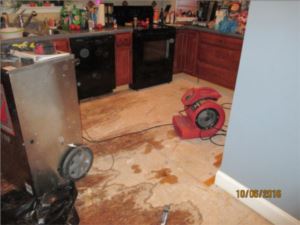 We are often asked to identify problems for our customers and sometimes for their insurance companies. In some cases, people think they can save money by performing the mitigation and structural drying themselves. However, we generally find that most people don't have the experience to mitigate damage effectively and efficiently and sometimes create bigger problems for themselves.

Structural drying is a specialty field just like an accountant or mechanic. Each requires specialized knowledge, unique tools and experience to do the job correctly, within compliance and safely. Being handy, isn't really closely related to being a good water technician. In many cases people are better off hiring a trained mitigator and then performing repairs themselves if they like to be hands on.

Removing water quickly is critical. The longer water is in contact with building materials, the deeper is soaks into the surface resulting in extra demolition and/or longer drying. We've seen situations where insurance companies refuse to cover portions of a loss because the owner didn't act quickly enough. A professional restoration company will be able to assess any situation quickly and pull in the correct resources to ensure coverage remains intact.
Restoration technicians are trained to mitigate damage.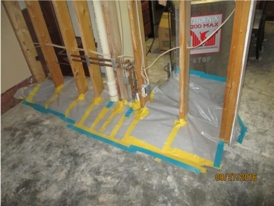 Insurance has it's own language. If you've read your policy lately, you know what we mean. Restoration contractors spend every day working with insurance companies and their adjusters so we speak the same language. We can help our customers navigate claims. One example – most homeowners call us because of a "flood". Unless you have specific Flood insurance, "floods" aren't covered; but "water damage" usually is. These are the kinds of things we can help translate for our customers.

We all live in a hectic time and the last thing most people need is a new major project. Restoration contractors will handle your problem, reduce your stress so you can continue to focus on the things do best. This also gives you peace of mind that if anything goes wrong in the process, you will continue have help and support to get things straightened out.

If you suffer a water loss or flood, give Service Team a call at (336) 203-0739. We'll have a trained technician to you as soon as possible to help get your situation under control as quickly and efficiently as possible.

Written by: Ben McDonald, Triad Service Team of Professionals – Winston-Salem, NC
Posted By
Service Team of Professionals
Categories:
More Posts Like This
Every day, property owners across the country are faced with water in places that it's not supposed to be. It comes from appliances malfunctioning, water lines ...

Read More

So, you wake up to soggy wet carpets in your living room, after some inspection you find that the heavy rains have caused your garage to flood and water is ...

Read More

The three most common causes of property fires are from cooking mishaps, dryers, and electrical shortages. Even after the flames are gone there can be permanent ...

Read More