Frozen Pipe Damages Tile and Hardwood Floors – Lexington North Carolina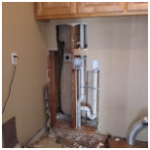 A few weeks ago when North Carolina was in the deep freeze we were called out to a home in Lexington with some water damage from a frozen pipe in the master bathroom. They already had a plumber working on the pipes and the water was primarily contained to an area in a laundry room that was accessible from the garage and under the master shower.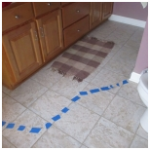 Our team got to work right away cutting out some drywall to help dry the wall cavity, removing the flooring from the laundry room and then taking readings to identify where all the water had gone. We found that some of the water had gotten under the ceramic tiles in the room on the other side of the wall and some had even gotten under the hardwoods in another adjoining room. The readings were fairly low so we attempted to dry everything through the use of directed heat and dehumidification. All our equipment was set up and we started our thermal unit to heat the area.
Unfortunately, the water didn't dry quickly enough and although we hate to do it our customer's safety and health is our primary concern, so we had to remove the cement board below the tile as well as a portion of the hardwoods to ensure that the subfloor was dried quickly enough to reduce the potential for mold.
Our homeowner was in the process of selling the home so we needed to be complete as quickly as possible and mobilized our team to get everything moving. We had our flooring team in right away to meet with the owner so they could select new tiles and the finish for the hardwoods. Once the selections were made, and documented everything was ordered from our suppliers.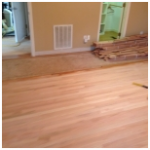 Once the materials arrived, all the tile was replaced, a section of the hardwood floor was replaced and then all the hardwoods were refinished to ensure everything matched and had a consistent finish. Our homeowners were pleased with the way everything turned out and are excited to move to a new home closer to work and more convenient for their family.
When you have water damage in your home, Service Team of Professionals is just a phone call away. We can generally have someone to your home within 60 minutes to help clean up and start the drying process. We're available 24 hours a day at (336) 203-0739.
Posted By
Service Team of Professionals
Categories:
More Posts Like This
After you have suffered a loss on your property, you may reach out to a mitigation contractor like Triad Service Team before you speak with your insurance ...

Read More

Every day, property owners across the country are faced with water in places that it's not supposed to be. It comes from appliances malfunctioning, water lines ...

Read More

So, you wake up to soggy wet carpets in your living room, after some inspection you find that the heavy rains have caused your garage to flood and water is ...

Read More
Part of the Authority Brands Family