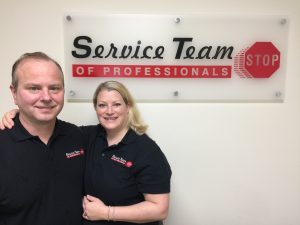 Service Team of Professionals (STOP) of Charleston, SC is a water damage, disaster cleaning and restoration company for residential and commercial business. We offer 24-hour service, 365 days a year.
Abe and Lauren Dawson, owners of STOP of Charleston County, bring over fifteen years of project management and business operations experience supporting a variety of federal agencies and missions. After moving their young family to Charleston to seek new business opportunities, Abe and Lauren quickly learned that water damage restoration services were in high demand in Charleston, South Carolina and in the entire Lowcountry region. The focus on teamwork and strategy for success that Service Team of Professionals ("STOP") offers convinced Abe and Lauren that STOP was the right choice for them, helping them realize their goal to be of service in their new community.
Nobody wishes a property casualty on anyone's home or business. But it is comforting to know that people like the Dawsons and their crew are available to ease the stress, make immediate improvements to any disaster situation and to see a project through to the end.
Backed by a national team of restoration industry professionals, STOP has leading experts in our field available for any disaster that you may face. STOP Worrying – STOP of Charleston County will treat you right, cooperate with your insurance company and get your home or business – and your normal daily routine – back together.
Call on STOP for emergency water damage and flood service, mold removal, smoke and fire cleaning and other unpleasant disaster situations.