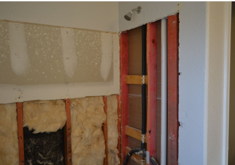 We were called out by an unhappy homeowner to investigate a water leak in the master bedroom of his three-year-old house. He had discovered there was a problem when he realized the floor by the bath was soft and spongy!
We removed the linoleum and found evidence of water damage, and in consultation with his insurance adjuster, removed the bath to establish where the leak was arising. There appeared to be two problems. The drain fittings were not connected properly and were leaking and the second issue was water damage to the walls and floor from shower water which had drained behind the unsealed tiles on the back wall.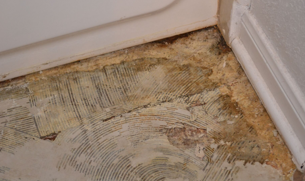 The demolition, in the end, involved removing not only the bath, but all the tiles, all of the sheetrock, some of the insulation which was also wet and, of course, the floor which had been the major symptom in the first place.
Once we were certain that all affected material had been removed and that the area was dried to our previously assessed dry standard, we insured against any future mold growth by applying an antimicrobial spray to the whole affected area. The walls and flooring were rebuilt, including using cement board for the floor and walls.
The homeowner had already discussed with us his plans for putting a walk-in shower in place of the bath at some point in the future, so we planned our restoration work to include that change. A shower tray was built and the whole shower was tiled from floor to ceiling. They were also planning to have floor tiles to the whole master bathroom in due course so, as the bathroom carpet had been severely damaged at the end near the bath, it was decided to replace the carpet with tile at this juncture, too.
After a deep clean, and a double check that all was well, the homeowner signed off on a job well done, and in good time.
Posted By
Service Team of Professionals
Categories:
More Posts Like This
Our first job, as a brand-new franchise for Service Team of Professionals, was a text book situation of a home with water running down the walls from a leak in ...

Read More

Unfortunately, there are some so-called professionals that have very little certified industry training on the subject of water damage, fire, smoke, mold and ...

Read More

Our first female member of the team attended an IICRC certification class for Water Restoration Technician last week. We await the results of her formal ...

Read More