How Testing Your Smoke Detectors and Fire Alarms can reduce House Fires
The reduction of fire damage to home and business can be directly linked to having proper tested and working smoke detectors and fire alarms. At Service Team Of Professionals (STOP) of Mesa (480-818-1440), we encourage all to follow and understand the following information.
Smoke detectors and fire alarms may be some of the most important items in your home when it comes to your family's safety. These early warning devices may help alert your family to fire and dangerous smoke while there is still time to evacuate, however they need to be periodically tested to help ensure proper function.
Why Do It?
Electronic devices are not foolproof. Batteries die, and other parts of the smoke detector can wear out over time. Testing them regularly and replacing batteries (or the entire device) is one way to help ensure your family stays safe should there be a fire in your home. Smoke detectors have a normal life span of 10 years, according to the U.S. Fire Administration (USFA). Even if you've performed regular maintenance, and your device is still functional, you should replace a smoke detector after the 10-year period or earlier, depending on the manufacturer's instructions
How Often?
According to the USFA, smoke detectors should be tested at least once a month and batteries should be replaced at least once or twice a year. Make sure to review your smoke detector's user manual — you may need to check more often if the detector is giving false alarms.
How Do You Test It?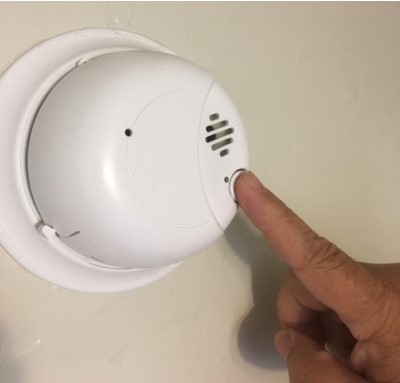 You should always check the manufacturer's instructions for the proper method of testing your smoke detector and fire alarm. But, in general, the USFA states most battery-powered and hardwired smoke detectors can be tested in the following way:
First, position a family member at the furthest point away from the alarm in your home. This can be critical to help make sure the alarm can be heard everywhere in your home. You may want to install extra detectors in areas where the alarm's sound is low, muffled or weak.
Next, press and hold the test button on the smoke detector. It can take a few seconds to begin, but a loud, ear-piercing siren should emanate from the smoke detector while the button is pressed. If the sound is weak or nonexistent, replace your batteries.
If it has been more than six months since you last replaced the batteries (whether your detector is battery-powered or hardwired), change them now regardless of the test result, and test the new batteries one final time to help ensure proper functioning. You should also look at your smoke detector to make sure there's no dust or other substance blocking its grates, which may prevent it from working even if the batteries are new.
Conclusion
Installing smoke detectors and having fire alarms can be a great way to help keep your family safe, but assuming they are working may lead to a dangerous situation such as not catching a potential fire soon enough or worst. Taking a few minutes to check them regularly can help ensure they're working properly.
Safety information is important to Service Team Of Professionals Mesa since we see results of such disasters. However should disaster strike your house or business remember to call STOP at 480-818-1880 and count of us to provide quality disaster cleaning and repairs, 27/7 emergency service for water, smoke, fire, wind, bio-hazard, vandalism, and other damage repair services. We service Mesa, Gilbert, Chandler (AZ) and other surrounding cities.
Posted By
Service Team of Professionals Mesa
Categories:
More Posts Like This
Are you aware of the health effects of poor indoor air quality? Let's find out. After a tiring day at work, nothing seems more pleasurable than returning home ...

Read More

Are you aware of the different types of water damage? Let's find out. Numerous homeowners experience water damage daily. When faced with water damage, the best ...

Read More

Are you aware of the different types of mold? Let's find them out. If you have experienced mold damage in your home, you can understand what a nuisance it is. ...

Read More
Part of the Authority Brands Family