Check for Mold | STOP Port St Lucie
Mold thrives in damp, humid conditions: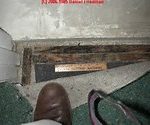 Bathrooms with poor ventilation. Install an exhaust fan if possible.
Leaky water pipes. Repair them immediately.
Roof leaks. Repair them right away.
Flood aftermath. Repair as soon as possible with professional drying.
Clothes dryers and exhaust fans that vent under the house or back into the room. Vent them to the outside.
Flood Damage

Houses that have been flooded are at serious risk for molds, especially in areas that have high humidity and temperatures provide the mold with the perfect place to reproduce before cleanup begins. A house flooded by an appliance leak, roof leak or many other situations and is not immediately controlled will likely suffer extreme damage from mold.
If you have a mold issue and want professional feedback or a free in home evaluation, call Kert Steward -(772) 266-5428 with Service Team of Professionals. We service the Port St Lucie, Stuart, Jensen Beach, Palm City, Fort Pierce and surrounding areas for mold removal, water damage, mold remediation, water extraction and structural drying.
Posted By
STOP
Categories:
More Posts Like This
How do I know if I have a mold issue? A mold issue is always related to moisture from a water source or high humidity. The mold from a water source is usually ...

Read More

If a water line leaks or breaks and the homeowner is away for a long period of time you run into serious mold issues because it can affect multiple rooms in the ...

Read More

Are you a homeowner in Port St. Lucie? Do you know the telling signs of black mold and the steps to take to remove it? The fact is, only a licensed mold ...

Read More