What is the advantage of hiring a professional duct cleaning company?
There are many benefits that come along with choosing a professional air duct cleaning company for all of your duct cleaning needs. Here are some benefits for starters.
Better equipment
The normal home owner does not spend thousands of dollars to own the correct equipment. This can make all the difference when it comes to cleaning your ducts. A household shop vacuum will not do the job, no matter how frequently you have cleaned your ducts. These vacuums do not have near the powerful you will want. They also lack having right filters and construction to prevent the dust, dirt, pollens and spores that are removed out of your vents to be redistributed back into your home.
When you hire a licensed duct cleaning company like Service Team of Professionals we will arrive ready to clean your ducts with the right equipment.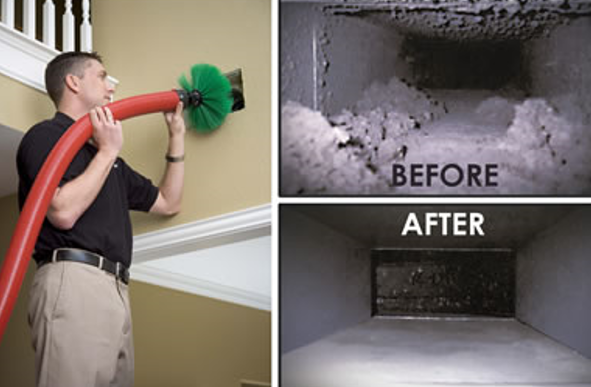 Better service
You might be able to clean what you see from your grate or grill, but how do you know there is not a buildup dirt deeper in your vents that needs to be addressed? Hiring a Professional company ensures that your ducts are actually cleaned farther that what you can just see.
Even if you remove all of the dust and dirt that you can see at the end of the duct, there is likely still much more dust deeper in the vent that will just be blown forward into the duct and out into your rooms.
Better cleaning
It is easy to just vacuum up the loose dirt and dust in a vent, but it is much harder to actually clean that duct and get it back to its original state, when it was first installed. This requires a much deeper and more professional clean. Not only will a Professional company have the time and equipment to get your ducts perfectly clean, they will have the equipment to disinfect your ducts.
Decontamination
It would be false to assume that there is only dust building up in your ducts. Ducts make a prime breeding ground for mold and other pests, not to mention the everyday dirt and pollen that can collect there. Your common dust serves as a protein and breeding ground for mold spores to grow. We provide services from Vero Beach to West Pam Beach and consistently deal with home owners who have been ill for months because of the bacteria and spores growing in their duct system.
Service Team of Professionals uses a series of rotating brushes on the end of a high powered vacuum that reaches up to 30' down your ductwork. The dirt is sucked back into a HEPA filtration system that will not re distribute back through your home.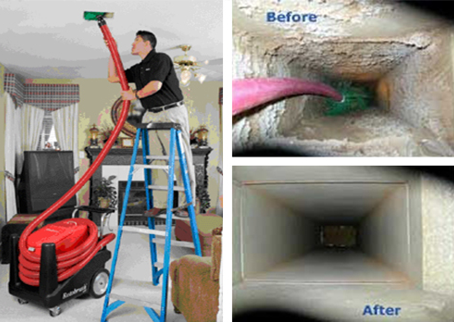 The last step we take is to fog the ductwork through the return. This equipment will send a light mist through the ducts that will kill bacteria and mold spores on contact. We only utilize plant based environmentally friendly products.
Service Team of Professionals services Vero Beach, Fort Pierce, Port St Lucie, Stuart, Jensen Beach, Palm City, Jupiter, West Palm, Hobe Sound, Tequesta and Okeechobee FL. Call Kert at 772-233-9089 for services.
Posted By
Service Team of Professionals
Categories:
More Posts Like This
How do I know if I have a mold issue? A mold issue is always related to moisture from a water source or high humidity. The mold from a water source is usually ...

Read More

If a water line leaks or breaks and the homeowner is away for a long period of time you run into serious mold issues because it can affect multiple rooms in the ...

Read More

Are you a homeowner in Port St. Lucie? Do you know the telling signs of black mold and the steps to take to remove it? The fact is, only a licensed mold ...

Read More
Part of the Authority Brands Family