Is There a Mold Problem In Homes In Southern Wisconsin?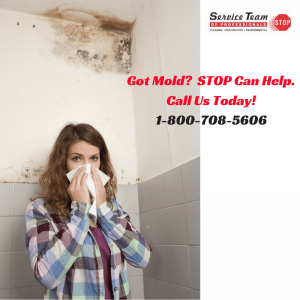 Mold is a problem for homes in Southern Wisconsin. But what has caused the mold– is what you should be most concerned about. There are many reasons why your home and our STOP Service Team of Professionals can help you identify the root cause of the problem. You may have a leaky pipe in a wall. You may have poor drainage outside your home. Either way, mold will affect your indoor air quality throughout your entire home.
Mold Effects Indoor Air Quality and Can Affect Your Health
Indoor environments and poor indoor air quality are getting more and more attention as the cause of many health ailments including general allergies, allergic reactions, more frequent asthma symptoms, etc. You are what you breathe and Mold & Mildew Can Affect Your Health. If you remove the source of these symptoms, you are on your way to ending the health problems associated with mold and other indoor environmental contaminants.
Why Is There Mold In My Home?
The energy efficiency in newer homes helps make them so airtight that when moisture does enter walls, floors or ceilings, there is simply no way for it to escape or dry out. Many of the homes in Janesville, Monroe, Whitewater and other Wisconsin are older structures. Time contributes to wear and tear on buildings. Leaks from the outside, through windows, roofs, and foundations are common culprits of water intrusion and consequent mold growth. So depending on the age of your home — Professional mold remediation may be needed insure your homes indoor air quality.
Should I Use a Mold Remediation Professional To Work In My Home?
Understanding buildings, HVAC systems, moisture detection, and the safety surrounding a mold job is a big part of the overall service of a specialist. Safety is of high importance and professionals take many steps to protect themselves and their customers in each home or building in which they work.
Anyone can study up, get training, buy the needed equipment to do most anything, rocket building and mold remediation included. True mold remediation professionals use $3,000 – $15,000 worth of equipment in each "average" mold job performed and have nearly as much invested in the many hours of proper training in how to do the work.
Are Mold Issues Covered By My Home Owners Insurance Policy?
Some mold work may be covered by your homeowner's insurance policy, usually depending on the cause. You should check with your insurance agent or review your policy for these details. The right professional is happy to and capable of cooperating with your insurance company, and should have working relationships with many agents and adjusters in the region.
If you spot mold in your home give us a call (608) 719-4128. The STOP Service Team of Professionals is happy to provide you a free estimate and if we feel a site inspection is needed to further help you make an informed decision, we can set an appointment to come by to meet you in person. Some jobs do require a certified industrial hygienist and we can assist you in making that determination. STOP provides water damage repair and mold remediation for homes and commercial building in Southern Wisconsin. We look forward to helping you rid mold from your home.
Posted By
Service Team of Professionals
Categories:
More Posts Like This
Nobody likes a sewer backup to flood their basement. It's smelly and gross. When STOP is called to this type of job there a specific procedures we follow to ...

Read More

"There is black mold in my house." But is mold dangerous? The truth is, there are many kinds of mold and mildew. Some are very mild and have virtually little ...

Read More

With a little preventive maintenance and preventive thinking, many water damage events can be avoided. For instance, if you have a water leak, you may not yet ...

Read More
Part of the Authority Brands Family